A Review of Deep Secret
A Review of Deep Secret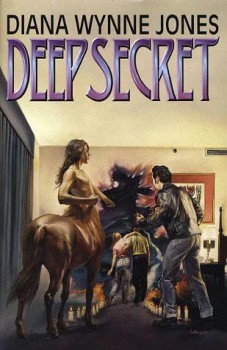 Deep Secret, by Diana Wynne Jones
Tor Books (383 pages, hardcover, March 1999)
Diana Wynne Jones was born August 16, 1934 and died on March 26, 2011. Various writers who knew her have made some excellent biographical posts; I especially recommend stopping by Neil Gaiman's blog. I never met Ms. Jones myself, but I've been a fan of her work since I stumbled upon Howl's Moving Castle as a teenager. Because of that, I thought perhaps I should review one of her novels this week; preferably something other than Howl's Moving Castle, which is quite well-known.
Deep Secret is a typical Jones book: it's complicated. Rupert Venables, junior Magid for Earth, has a number of problems which all seem to converge on him at once. The empire at the center of the multiverse is falling. The late emperor was a paranoid, unpleasant man who hid his heirs and executed them if they discovered their own identities. He also worshipped an evil thornbush goddess. Rupert's mentor has died, and he has to find a replacement Magid and he hates the most likely candidate on sight. When he decides to simplify matters by gathering all the candidates at a speculative fiction convention, his very odd neighbor wanders through his spell and becomes wrapped up in it. Also, his mentor is now haunting his car and won't stop playing baroque music.
Maree Mallory, most likely candidate for Magid, has her own set of troubles, albeit more mundane ones. She's had a bad breakup, she's broke and living with relatives who dislike her — all except her younger cousin Nick, who she finds charming but slightly amoral. She keeps having dreams about a horrible and insulting old lady who is somehow also a thornbush. And she keeps encountering a person she thinks of as The Prat, also known as Rupert Venables.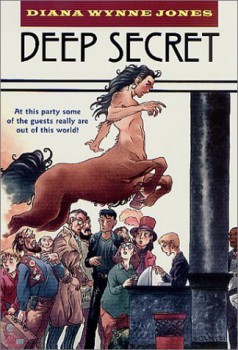 The different plot elements all converge at the convention, which is a chaotic enough environment anyway, in a hotel that has far too many right angles per floor. At first, it's hard to see how all the pieces connect, besides being Rupert's responsibility. Then, as is often the case with a Diana Wynne Jones story, insignificant details suddenly become deadly important and deception and betrayals go off in all directions.
Maree, caught in the crossfire, is as good as dead unless Rupert uses one of the most dangerous spells the Magids know — one that requires him to stay behind, in the hotel, and trust her life to Nick, who has already proven himself worryingly good at deception.
If I have a problem with this book, it's that Rupert sometimes seems a pawn of events rather than a proactive part of them. Part of this, however, is the fact that he's actively being manipulated by fate. His actions are critical in resolving the plot even if they aren't the actions he thought were significant. Maree and Nick, meanwhile, dive straight into the action once they start to get an inkling of what's going on, vastly complicating everything.
It's worth noting that the funniest scene in the book — Maree taking care of Nick's zombielike, shambling, pre-coffee self — is apparently based on Neil Gaiman's actual morning behavior. I don't know how many other bits are based on real people or real convention incidents, but I suspect there are several. The story is probably even better for people heavily involved in fandom.
If you like re-reading books, this is probably a good one to pick up. Small but important hints are scattered all over the place, easier to pick up on a second run-through. If you absolutely can't stand non-linear storytelling, though, you might not like it as much; the climax of Maree and Nick's story is bumped to the end, well after it actually happened.
All in all, Deep Secret is a good book, fast, complex, and interesting and I suspect that certain parts only get funnier the more conventions one has been to.