Black Gate Back Issue Sale!
Black Gate Back Issue Sale!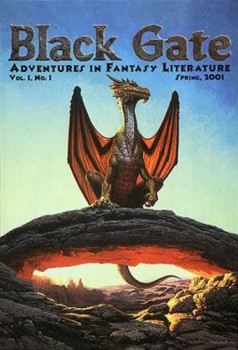 We're going to press this week with the long-awaited Black Gate 15 — and you know what that means.  It means I won't be able to get my car in the garage unless I clear out some of the back issue stock first.
My unnatural love for my 2006 Audi is your gain. Starting today, and continuing until I can fit my beloved automobile in the garage, we're having a sale on back issues of Black Gate magazine. Any two are $25 (plus shipping and handling). Any three are just $35, and any four just $45.
This offer even includes our rare first issue (price just reduced to $18.95), and our double-sized issue 14 (also $18.95). You can buy a complete set of the first four issues  — totaling 896 pages of the best in modern fantasy, a $65.80 value — for just $45.
But hurry. Quantities are limited. Yes, we know. Everyone says that. (Try it yourself, and you'll understand. "Quantities are Limited!" It just trips off the tongue somehow.) But really. There's not many copies left, and once I can squeeze a compact car into the garage and shut the door, the sale is over.
Just use the form on our subscription page to select any two issues for $25, any three for $35, or any four for $45, and we'll apply the discount. It's that easy.
Want a PDF copy instead? They're just $8.95, even for big double issues.  Why not try a 4-issue PDF subscription for just $29.95, or a 2-issue print sub for $32.95? You can order print versions of both of our 384-page double issues, BG 14 and 15 (combined cover price $37.90, plus $4.50 shipping) for $32.95, shipping included.  We'll ship BG 14 this week, and send the massive BG 15 right to your door hot-off-the-press later this month.