Update: Black Gate Back Issue Sale
Update: Black Gate Back Issue Sale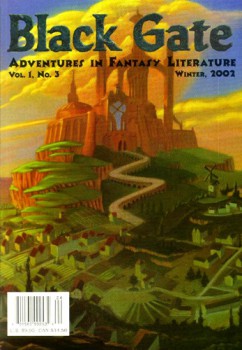 On Monday I announced a sale on back issues of Black Gate magazine.
Response to the sale has been terrific — thanks to everyone whose purchases have helped me clear away back stock, and get a lot closer to fitting my precious automobile in the garage.
Since Monday I've emptied four boxes of back issues, and lost count of how many I've packed up to take to the post office.  This afternoon I did a quick inventory count to see what's left.
We're virtually sold out of Black Gate 3 (just a handful of copies left), and I opened the last box of Black Gate 4 on Friday. I found another box of Black Gate 5, which brings the total to two boxes. Compared to those three, we have fair stock in all other issues.
For the duration of the sale any two back issues are just $25 (plus shipping and handling). Any three are just $35, and any four just $45. This includes our first issue (regularly $18.95), as well as our double-sized issue 14 (also $18.95). You can buy a complete set of the first four issues, a $65.80 value, for just $45.
For the Table of Contents for all of our back issues, use the navigation bar at left and scroll down to "Back Issues."
The sale will run for a limited time. Once I can squeeze my Audi into the garage and shut the door, the sale is over.
Just use the form on our subscription page to order. Remember that PDF copies are just $8.95, even for big double issues.  You can also order print versions of both of our 384-page double issues, BG 14 and 15 (combined cover price $37.90, plus $4.50 shipping) for $32.95, shipping included.  We'll ship BG 14 this week, and send the massive BG 15 right to your door hot-off-the-press later this month.