Arabian Culture Myth as Fantasy: Tor.com interviews Howard Andrew Jones
Arabian Culture Myth as Fantasy: Tor.com interviews Howard Andrew Jones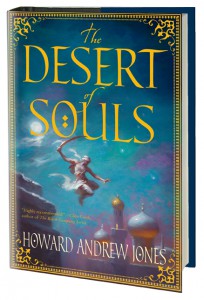 We ran out of bubbly grape juice by Friday morning, but that hasn't stopped the non-stop celebration of Howard Andrew Jones month here at the Black Gate rooftop headquarters.
Today we've been clustered around computers reading the lengthy and far-ranging interview with Howard at Tor.com, which covers Howard's literary inspirations, his research methods, and how long years toiling for Black Gate molded him into the literary titan he is today:
Are there other novels that inspired this series? Perhaps in unexpected ways?

Tthe books I've read the most times are probably Leiber's collection of Lankhmar stories, Swords Against Death, and Zelazny's Amber books… I can't imagine that Leiber and Zelazny haven't had a lasting influence upon me. I love the world building and pulp noir sensibilities of Leigh Brackett, queen of space opera, who was writing of Firefly-like characters twenty and thirty years before Han Solo every reached the silver screen.

How would you say your career as an editor at Black Gate has helped shape you as an author?

That's an interesting question. I suppose it's gotten me to think about the starts to stories even more than I was already. I see a lot more beginnings than I do endings, to be honest. That's just the way it works when you're reading submissions. The biggest impact, though, probably comes from the number of people I've had the privilege to meet thanks to Black Gate's John O'Neill… I think my writing career would have had a much harder time getting launched without my work with the magazine and the Harold Lamb collections.
The complete interview (and an absolutely smashing photo of Howard in a paisley shirt) is here.