Larry Nolen's Best Heroic Fantasy of 2010
Larry Nolen's Best Heroic Fantasy of 2010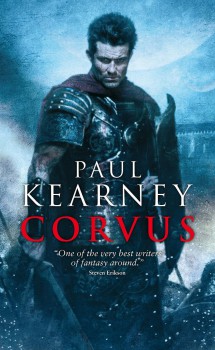 Over at Locus Online Larry Nolen's, editor of The OF Blog, has posted his rundown on the Best Heroic Fantasy of 2010:
Heroic or high fantasy, whether it appears under the guise of multi-volume "epics" or the shorter-length Sword and Sorcery fantasies, is often overlooked when it comes to judging a year's best. Due to the outsized conflicts and emphasis in most such stories on plot over theme or minute characterization, such stories cannot be judged in the same fashion as a realist or surreal fiction. Heroic fantasies depend much more upon immersive experiences for the reader to enjoy the unfolding narratives. Resembling more cinematic serials in their wide scope, plot-driven action, and formulaic characters and situations, heroic fantasies have long appealed to readers…

In his follow-up to the acclaimed reimagining of Xenophon's history of the Greek Ten Thousand, The Ten Thousand, Paul Kearney in Corvus revisits the world of the Macht over two decades after the heroic events of the first novel… Kearney masterfully reveals Rictus' conflicts, his reluctant assumption of command in Corvus' army, and the terrible events that sunder him from all which he has loved. Corvus is perhaps one of the best character-driven heroic fantasy novels published in recent years.
Some great titles on this list, including a few I might have overlooked.
The complete list, including titles from N.K. Jemisin, George R.R. Martin & Gardner Dozois, Ian Cameron Esslemont, and Jonathan Strahan & Lou Anders, is here.