George R. R. Martin weds Parris McBride
George R. R. Martin weds Parris McBride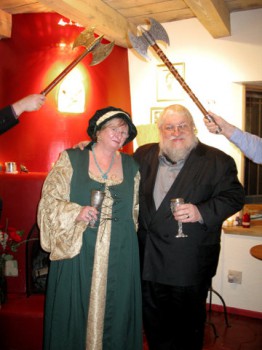 George R. R. Martin married his long-time sweetie Parris McBride on February 15th. The announcement on GRRM's blog reads:
Back in 1981, Parris left Portland, Oregon for Santa Fe, and moved in with me in my old house on Declovina Street. We've been together ever since, for good times and bad, a move or two, more cons and road trips and adventures than either of us can remember now in our advanced old age. After thirty years, we finally decided that maybe this relationship was going to work out after all.

So on the evening of February 15, we finally made it official, and married in front of our hearth at our home here in Santa Fe…. Unlike most Westerosi weddings, no one was killed and only tears of joy were shed.

(I can hear some of you saying 'What took you so long?' What can I say? I'm slow. With writing and with… ah… other things.)
Martin is the author of the Song of Ice and Fire fantasy series, which includes A Game of Thrones and A Clash of Kings.
More details (and pics) are available at George R.R. Martin's LiveJournal blog, and Raya Rambles'.
Congratulations to George and Parris! May a flock of blessings light upon thy back.