Graphic Noir: A Random Sample
Graphic Noir: A Random Sample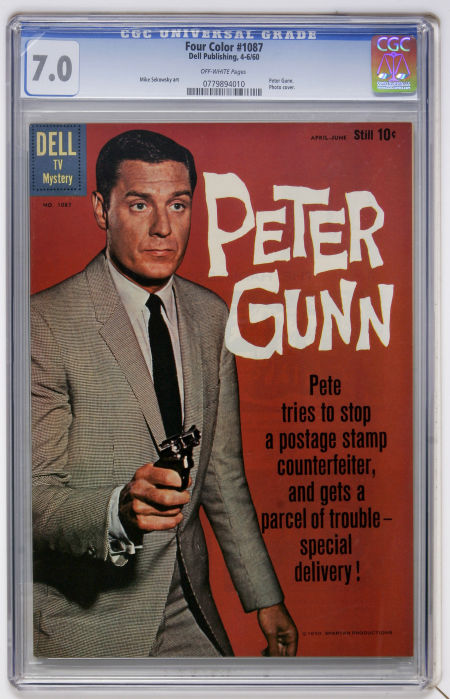 Noir comics have bubbled under the surface for decades. Even the mainstream success of the Dick Tracy newspaper strip failed to bring hardboiled detectives to the forefront of the medium. Batman started off as a noir title before quickly eschewing dark corners for brightly-colored superhero theatrics for decades. TV and movie tie-in's, usually one-off's from publishers like Dell popped up here and there but failed to be anything more than curios.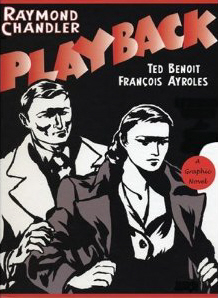 A quick look at Dell's Peter Gunn one-shot from 1959 is a perfect example. The television series was strictly adult fare in its day with a 9:30 PM time slot so it's strange to see a kid-friendly comic with Pete tracking down a maker of counterfeit postage stamps as the lead story.
Dell fared much better with the simultaneous publication of a TV tie-in novel by the author of the Peter Chambers series, Henry Kane. That book managed to aim for a more sophisticated audience than late fifties network television standards would allow making Dell's dime comic all the more strange in comparison.
The advent of the graphic novel was really the medium that allowed noir titles to flourish. Darker, more adult and frequently self-contained, the graphic novel was the perfect vehicle to bring hardboiled detectives into the graphic medium. Jim Steranko may have been the first to exploit the combination with Red Tide (1976) featuring the adventures of a gumshoe named Chandler in an appreciative nod to the creator of Philip Marlowe. That seminal work was the first graphic noir in the United States, Europe having got the drop on us first.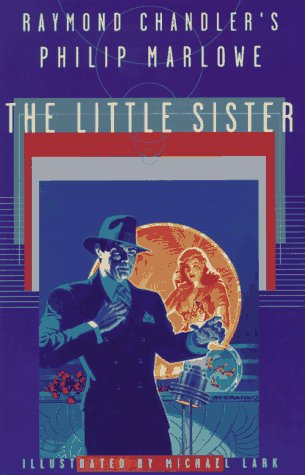 Raymond Chandler provided fertile ground for graphic novel creators. Chandler's last book, Playback (1958) was cannibalized from an unproduced screenplay that the author retooled to suit Philip Marlowe.
Mysterious Press published the screenplay in book form in the mid-eighties. A French graphic novel imagining the script as the film noir classic it might have been followed a few years later.
 The graphic novel was later translated back into English and published Stateside by Arcade Publishing in 2006. It is well worth hunting down as a companion to Chandler's The Blue Dahlia (1946) with Alan Ladd and Veronica Lake and stands as one of the author's few fully-realized works without Philip Marlowe.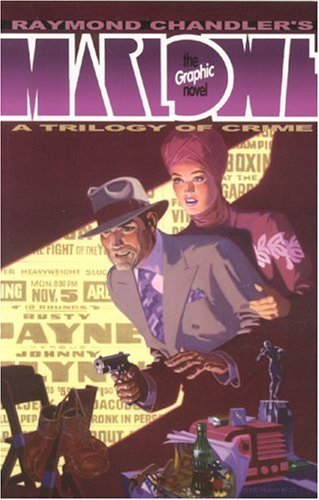 Chandler's legendary detective has received quality graphic novel treatment twice thanks to Simon & Schuster. Byron Preiss presented a stunning adaptation of Chandler's 1949 novel, The Little Sister in a classy 1997 graphic novel from writer/artist Michael Lark.
Preiss upped the ante for his 2003 anthology, Marlowe adapting three Chandler short stories, "Trouble is My Business," "Goldfish," and "The Pencil."
Only the last one originally featured Marlowe, but like any number of publishers and television producers before them, Chandler's early detectives are renamed Marlowe here to make the property more commercially viable.
The artwork is not as impressive as with the first effort, but Jim Steranko's cover art and the high quality of Chandler's stories more than compensate.
A pity only two Marlowe graphic novels have surfaced thus far.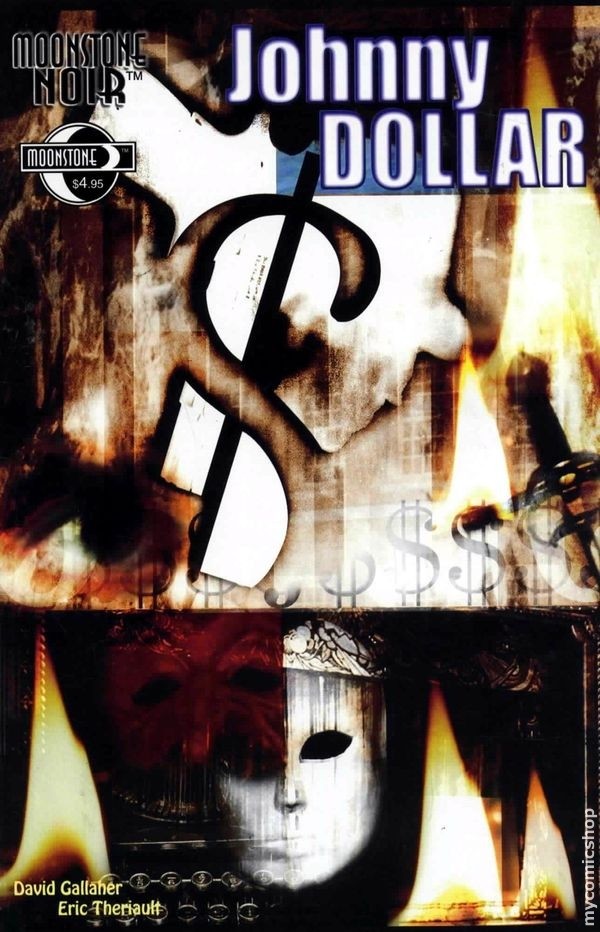 Moonstone is one of the finest indie comic publishers around. Their Moonstone Noir line has produced a number of excellent titles.
The standout for me is their Johnny Dollar one-shot. Yours Truly, Johnny Dollar holds the distinction as the longest-running radio drama series at fifteen years.
Johnny is an insurance claims investigator in the hardboiled tradition. Moonstone's Johnny Dollar one-shot features clever scripts that capture the flavor of the radio show but turn it up a notch in terms of content.
Moonstone, as a publisher, and their Noir line, in particular, are worthy of far greater acclaim as they produce books far superior to mainstream comics publishers like Marvel and DC.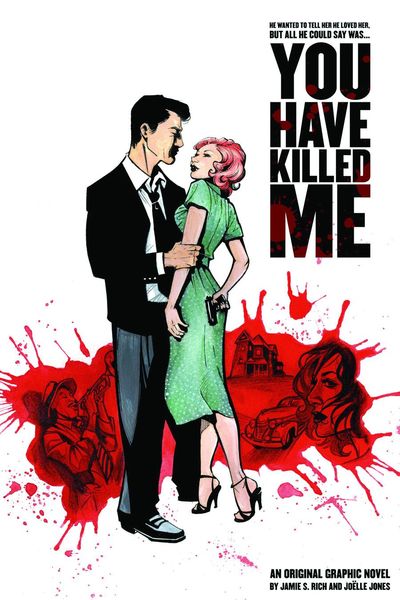 Veteran graphic novel writer Jamie S. Rich channeled his love of legendary songwriter Johnny Mercer into the creation of Tony Mercer, the hardboiled private eye hero of his modern noir masterpiece, You Have Killed Me (2009; Oni Press).
Joelle Jones' artwork is dead-on perfect and a cut above most graphic noir. Rich's script, a nice spin on Chandler's The Big Sleep with bits and pieces reminiscent of both Mike Hammer and Peter Gunn, centers on two sisters and the men in their lives. The locked room mystery is rarely a good match with hardboiled fare and presents an obvious giveaway to seasoned readers, but Mercer isn't the brightest bulb although he is likeable and the plot twists and dialogue keep the reader engaged.
Rich's variation on the usual Marxist bent in hardboiled fiction is particularly intriguing. He may profess not to be an expert on hardboiled detectives, but Rich understands people and combined with Jones' stunning artwork they create a combination that makes one look forward to Mercer's promised return. You Have Killed Me comes highly recommended.
Webcomics are the new frontier for graphic novels. ComicRelated.com's weekly serial, Price for the Asking is the obvious standout for fans of noir mysteries. Bill Gladman & Ron Fortier's hardboiled detective, Simon Pryce is a natural. The scripting is solid and I look forward to the eventual publication of the title as a collected graphic novel. One page of comic art is uploaded each week with newcomers easily able to upload the previous pages to follow the story from the beginning. Pryce is another detective with a healthy future in the hands of creators who know how to get the best from the medium and the genre. This sampling is by no means definitive. Longtime readers know my love of hardboiled fiction and this week's column presented a welcome opportunity to place the spotlight on an unsung medium for continuing the noir tradition.
---
William Patrick Maynard was authorized to continue Sax Rohmer's Fu Manchu thrillers beginning with The Terror of Fu Manchu (2009; Black Coat Press). A sequel, The Destiny of Fu Manchu is due for publication in December 2011. Also forthcoming is a collection of short stories featuring an original Edwardian detective, The Occult Case Book of Shankar Hardwicke and an original hardboiled detective novel, Lawhead. To see additional articles by William, visit his blog at SetiSays.blogspot.com