Realms of Fantasy Returns — Again
Realms of Fantasy Returns — Again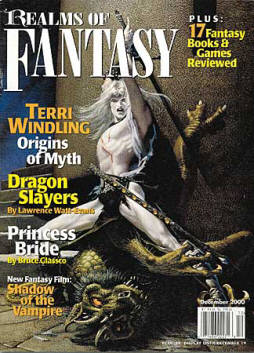 Less than three weeks ago we reported that Realms of Fantasy magazine was being closed by Tir Na Nog Press and publisher Warren Lapine. (And Brian Murphy asked if the end of Realms of Fantasy begs the question: Too much fantasy on the market?)
At the time, Warren offered to sell the magazine for $1 to a responsible party who could continue publication. Now SF Scope is reporting that the magazine has been sold to Damnation Books.
Who the heck is Damnation Books? I admit I never heard of them either. According to their website, they've published electronic novels, novellas and short stories by Joshua Martyr, S. A. Bolich, Matthew S. Rotundo, and many others. Their CEO is Kim Richards, and their staff includes William Gilchrist, Tim Marquitz, and Lisa J. Jackson.
Damnation Books plans to release the December 2010 issue (previously only available electronically) in print form, and continue virtually immediately with the February 2011 issue, meaning the magazine's bi-monthly schedule will suffer no gaps.
All subscriptions will be honored, and Damnation has announced plans for an extra-sized June 2011 volume, to coincide with the magazine's 100th issue. The website remains at www.rofmag.com, and effective immediately the magazine has reopened to submissions.  No official word yet on whether any of the magazine's current staff will remain.
This is great news for fantasy fans — and kudos to Warren and Damnation Books for orchestrating what looks like a smooth transition.  Here's hoping Damnation finds the right formula to keep this grand lady of fantasy alive and thriving.