Hyperborean Mice: Grim Swords & Sorcery Action… With Talking Mice
Hyperborean Mice: Grim Swords & Sorcery Action… With Talking Mice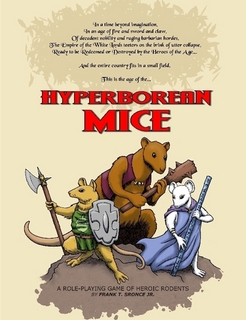 Am I a bad gamer if I really, really want to play this game?
I mean… a role playing game of heroic rodents, tiny critters struggling valiantly against barbarian rat tribes, gargantuan predators such as foxes and owls, legendary horrors that prowl the land, and foul sorcery.  All in Conan's backyard.
Just listen to this product description:
The ancient White Lords, albino mice with magical powers, rule over the valley of Hyperborea, but their empire is crumbling. Barbarian rat tribes, deadly predators and political intrigue threaten to bring their mousy civilization to an end. Terrible predators like foxes and owls take the place of giants and dragons. Voracious shrew clans raid the Fallows, seeking mice and rats to fill their larders. Centipedes scuttle beneath the underbrush, seeking prey. Hawks force the inhabitants to stay under cover during the day, while owls stalk the sky at night… Legendary horrors stalk the land, unique predators with potent magical abilities of their own. The terrifying Mocker, a centipede whose only voice is the imitated cries of his victims. The serpent Ssaaa gathers a cult of worshipers to do her bidding in the valley. And no mouse dares stand against dread Hoorooru, the ancient ruler of Rookswood and the enemy of the gods.
It's like Robert E. Howard was hired to write the screenplay for The Secret of Nimh. Scott Oden reports that it's "Filled with REH and Lovecraft homages! Like an owl that's worshipped as a god by clans of savage mice." I got chills, I swear.
Hyperborean Mice was written by Frank Sronce and published by Kiz and Jenn Press. It's 102 pages, and is available as a softcover book from Lulu.com or as a digital download PDF from RPGNow and DriveThru RPG. Show it some love and check it out, and let me know I'm not crazy.