Howard Andrew Jones' The Desert of Souls available for pre-order on Amazon
Howard Andrew Jones' The Desert of Souls available for pre-order on Amazon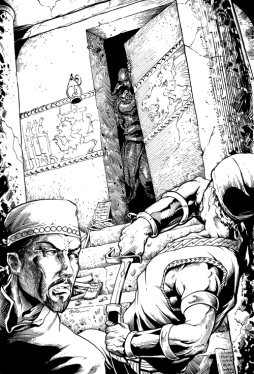 Howard Andrew Jones' Dabir and Asim stories are some of the most popular we've published in Black Gate. His first novel featuring his 9th Century adventurers, The Desert of Souls, is now available for pre-order from Amazon.com.
Howard's tales of Dabir and Asim have appeared in many fine venues, including the anthology Sages and Swords, and Paradox, the magazine of historical and speculative fiction. In "Sight of Vengeance" (Black Gate 10), our intrepid heroes investigate a fiendish foe who claims the eyes of his victims.  In "Whispers From the Stone" (Black Gate 12), Dabir and Asim find themselves trapped in an ancient tomb, up against an sinister conspiracy led by a long-dead — and very formidable — opponent.
Howard has discussed the fascinating details of selling his novel here on the Black Gate blog ("How to Get a Book Deal"). We'll publish an excerpt from the novel in our next issue, Black Gate 15. But for now you'll have to content yourself with the enticing plot summary from the Amazon listing:
In 9th century Baghdad, a stranger pleads with the vizier to safeguard the bejeweled tablet he carries, but he is murdered before he can explain. Charged with solving the puzzle, the scholar Dabir soon realizes that the tablet may unlock secrets hidden within the lost city of Ubar, the Atlantis of the sands. When the tablet is stolen from his care, Dabir and Captain Asim are sent after it, and into a life and death chase through the ancient Middle East. Stopping the thieves — a cunning Greek spy and a fire wizard of the Magi — requires a desperate journey into the desert, but first Dabir and Asim must find the lost ruins of Ubar and contend with a mythic, sorcerous being that has traded wisdom for the souls of men since the dawn of time. Debut author Howard Jones breathes new life into the glittering tradition of sword-and-sorcery, combining the masterful fantasy of Robert E. Howard with the high-speed action of Bernard Cornwell.
Already being described as "A thrilling, inventive cross between One Thousand and One Nights and Sherlock Holmes," The Desert of Souls will appear in hardcover in February, 2011, from St. Martin's imprint Thomas Dunne Books.
Art by Storn Cook for "Whispers From the Stone."