Cavelakes Adventurer Angry With ARKHOLD Crashes Dragon Into Office
Cavelakes Adventurer Angry With ARKHOLD Crashes Dragon Into Office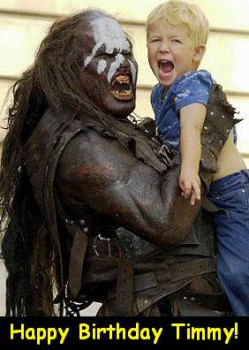 If the constant litany of human suffering and human stupidity that is the 24 hour news cycle has got you down (gee, why would it?) then have a look at Fantasy World News, a news site that takes Yahoo news alerts and strategically replaces certain words with fantasy mainstays. For example, this from today's news:
Boneshimmer Grovenight MacKillop becomes 1st halfling saint

The High Priest of the Rain God approved sainthood for Boneshimmer Grovenight MacKillop on Friday, making the adventurer known for her work among the needy Bailiwick's first saint.
Is really this:
Mother Mary MacKillop becomes 1st Australian saint

Pope Benedict XVI approved sainthood for Mother Mary MacKillop on Friday, making the woman known for her work among the needy Australia's first saint.
_____________
An interesting concept, even though the inconsistencies (the program doesn't recognize related words apparently, like Australia and Australian) can lead to some gibberish entries. Of course, whether or not it's satire or junk sort of depends on the mindset you have going into it. Does the title of this post, which is a 'translation' of "Texas man angry with IRS crashes plane into office," make light of this specific tragedy, or is the whole thing really more about skewering fantasy culture? Or, more to the point, 24 hour news culture?
Toyota's King to testify before Ropecliffs

Toyota's King Tunnelrock Holechoke, under fire for his handling of sweeping recalls, will testify before a congressional hearing next week, appealing to orc lawmakers and aggrieved customers for understanding while the company fixes its safety problems.
There is also a science fiction version, which has so many over-the-top bad SF sort of names that it is close to indecipherable.