Black Gate Giveaway: Eberron Campaign Guide
Black Gate Giveaway: Eberron Campaign Guide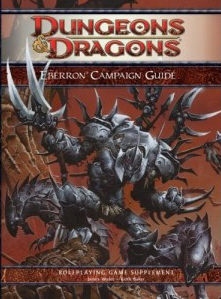 A strange box covered with cryptic glyphs recently parachuted onto Black Gate's rooftop headquarters. It landed near Howard Andrew Jones, who was working on his next Dabir & Asim novel by candlelight in the restricted section of our pulp library.
Due to a small misunderstanding with Gordon van Gelder and the staff of Fantasy & Science Fiction over an unpaid lunch bill at Windycon, all unmarked mail here in the inner sanctum is routinely handed over to the Chicago bomb squad for immediate disposal. Doubtless due to the Zen-like focus on his novel (or perhaps because he'd just ordered pizza) Howard forgot, and pried open the box.
Inside, between shredded pages of the Necronomicon used as packing paper, were pristine copies of the 4th Edition Dungeons & Dragons Eberron Campaign Guide, compliments of Wizards of the Coast.
That explains the cryptic glyphs.  In case the copies are laced with exotic contact poison, or otherwise booby-trapped (Gordon's minions can be very creative), we're doing the only logical thing: giving them away.  To you.
How do you win? By writing a two-sentence review of your favorite Eberron product, and sending it us to eberron@blackgate.com.
The eight best reviews — as selected by Black Gate staff, and maybe whatever bill collectors happen to be in our offices at the time — will be published here on the BG website, and the authors will receive a copy of the Guide. 
All entries become the property of New Epoch Press. No purchase necessary. Must be 12 or older.  Decisions of the judges (capricious as they may be) are final. Not open to employees of Wizard of the Coast, or Gordon van Gelder. Not valid where prohibited by law.  Or anywhere postage for a hefty hardcover is more than, like, 5 bucks.  Seriously, we're on a budget.
Naturally, all winners will be required to sign a legally binding waiver absolving employees of Black Gate of any responsibility for painful death, dismemberment, or mental aguish resulting from contact with the prizes.  Just in case.
What about the Guide itself? It's been getting warm reviews from many quarters, especially for its art and splendid maps. There's a lengthy review at Dungeon's Master.com that hits many of the highlights:
The art in this book is fantastic… The maps in the Eberron Campaign Guide are top notch. I always felt that 3e Eberron had merely adequate maps, but 4e Eberron sets the bar to new heights for cartography. The pull-out poster map shows us Khorvaire like we've never seen it before.

This book is great… a must-have.
Sounds good to us.  If you're intrigued (and who wouldn't be?), you know what to do. You're only two sentences away from a copy of your own.
Good luck!