The Ham-Sized Fist Award
The Ham-Sized Fist Award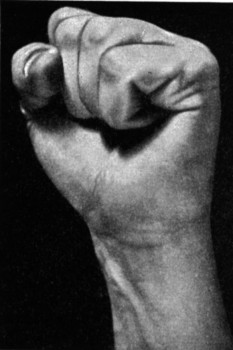 A while back I talked about The David Gemmell Legend Award, given this year for the first time to a fan favorite novel of heroic fantasy. Like most fans of adventure-oriented secondary world fantasy, I was used to seeing writers and books I liked pretty much ignored when it came to awards — so the Gemmell Legend Award came as a pleasant and welcome surprise. Well, seems another award for our fair sub-genre is also getting its start this year, one that specifically looks at sword & sorcery and heroic fantasy short fiction — The Ham-Sized Fist Award.
Boasting a (currently) 800 dollar prize split between author and publisher, and a name no one is likely to forget, The Ham-Sized Fist Award was founded by editor Jeff Crook with the intention of recognizing excellence in the rather neglected field of short form  heroic fantasy. It's open to any works published in 2009 in print or electronic venues that use an editorial process for selection. So far, works from Black Gate, Beneath Ceaseless Skies, Flashing Swords, Heroic Fantasy Quarterly, Black Dragon, White Dragon, and Rage of the Behemoth, among others, have been nominated.
_________________
Jeff Crook gives a good interview over at Fantasy Magazine discussing his motivation for the award, and the state of adventure fantasy in general. He raises a good point about seriousness, which is something the very title of his award can't help but comment on:
One problem I think is a tendency among writers especially to try to justify the work, to try to sell it as great literature just as good as anything written by 'fill in the blank.' There is a desire to see speculative fiction and its great authors taught alongside literary authors in college courses, to not be mocked in college creative writing classes, and to obtain the jobs teaching creative writing and literature in colleges that usually go to people who devote themselves to "serious" literature.
I've seen some criticism of the name of the award — which is derived from a Robert E. Howard quote — as being too silly. Well, my own thought is that it's rather perfectly chosen — as not only does it openly celebrate the language of heroic fantasy and its pulp roots, but it also reminds us not to take things so seriously and remember this genre is about fun. It's this self-awareness and sense of humor that I find most appealing about the award.
To nominate a story for the award simply submit it as a comment on the relevant section of the Ham-Sized Fist Award website.
__________
BILL WARD is a genre writer, editor, and blogger wanted across the Outer Colonies for crimes against the written word. His fiction has appeared in numerous magazines and anthologies, as well as gaming supplements and websites. He is a Contributing Editor and reviewer for Black Gate Magazine, and 423rd in line for the throne of Lost Lemuria. Read more at BILL's blog, DEEP DOWN GENRE HOUND.