An Interview with Midnight Syndicate mastermind Ed Douglas
An Interview with Midnight Syndicate mastermind Ed Douglas
Yes, my goth friends, there is a Santa! The highly creative people over at Midnight Syndicate are finally delivering on my personal wish list in the form a movie, The Dead Matter. Best known for creating amazing soundtracks to your worse nightmares, Ed Douglas and company are raising the stakes (or should I say "driving in the stakes"?) with this spine-tingler due out later this year. If their latest CD, The Dead Matter, Cemetery Gates is any indication, you won't want to miss this cinematic horror extravaganza that mixes all the best elements of a classic, 1930's monster movie, with your favorite bits from the 80's. And if you're listening to a Midnight Syndicate classic as you read this article, you've got something in common with Hugh Hefner! Read on to learn more as we clear the cob webs and sit down for a chat with the masterful music and movie creator, Ed Douglas.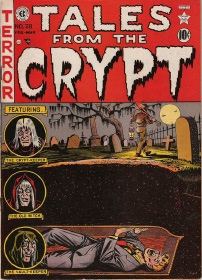 SG: Were you a "goth kid" in high school and / or were you interested in horror movies from a young age?
ED: I've been interested in horror and the supernatural for as long as I can remember. Some of my earliest memories are of getting books on ghost stories and the Universal Studios monsters from the library and listening to an vinyl album of Vincent Price reading The Tell-Tale Heart. Reading Stephen King books, Tales from the Crypt comics, and watching horror movies have always been my hobbies. The first time I picked up a VHS camera as a kid, we did a short "horror" film with my cousins. If you saw my photo from high school you would never have pegged me as a goth kid but dressing the part has never been a priority for me. I think everyone likes to express their darker side differently.
SG: What is Halloween like in the Douglas household?
ED: I have so many great memories of Halloween growing up I want to make sure my children have that too. so for the past four years, Halloween has pretty much surrounded the Douglas girls; taking them trick-or-treating, hayrides, pumpkin painting, etc. We put some music CDs we have lying around here out the window Halloween night to set some atmosphere for the neighborhood. We'll do a decent yard display next year with some of the props we have from The Dead Matter movie. Every year I set aside several nights in October for horror movie marathons – that's key.
SG: You have been making gothic music for eleven years. How has Midnight Syndicate evolved during that time and how has your audience base changed?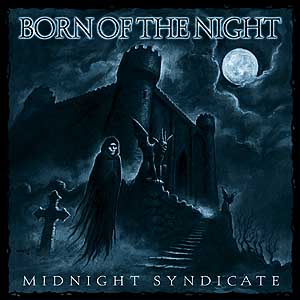 ED: It's been an amazing journey. It all started with the idea to create these "soundtracks to the imagination;" CDs that resembled soundtracks to imaginary films that would transport listeners to a movie or world of their own creation. That was the thrust of the first Midnight Syndicate disc which was mostly dark-themed but not exclusively and mostly instrumental (like we do now) but entirely (there were some rock and Depeche Mode-influenced tracks as well). At that time Midnight Syndicate was more of a solo album with contributions from other artists I working with. It was through that first disc and the live shows that followed that Gavin joined the band. Together, we've co-written the Midnight Syndicate music since then. Born of the Night was a big disc for us. It was the first disc that was exclusively horror instrumental music. The song ideas came from the first album and my soundtrack sessions to the original The Dead Matter (1996) movie. It definitely established our sound going forward.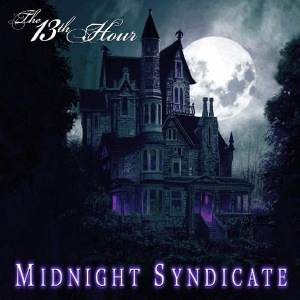 Our fourth disc, Gates of Delirium marked a milestone for us because it was the disc where we really took the soundscape sections of our albums to the next level. We constructed entire sound effect "scenes" within and in between the music tracks to really draw the listeners into the world we were creating. I think it was another step forward in our songwriting as well. Our sixth disc, Dungeons & Dragons was a big one for our development as it allowed us to explore more of our fantasy influences and blend those with our darker elements. It definitely gained Midnight Syndicate a new audience both in the US and abroad. The following disc, The 13th Hour, is our personal favorite. For us, it was the culmination of years of working with both the music and sound design side of things making for a truly immersive disc. Between the music, the sound, and the theme of the disc we knew when we finished it that we had made something really special.
The Rage soundtrack of 2008 marked another development for us as it was the first time we released a soundtrack to an actual film. The high-energy, battle-heavy themes of the movie pushed us into some more aggressive horror-stylings which I think add to our body of work. As a musician, I think you are often partial to your latest material, but The Dead Matter: Cemetery Gates CD we released this August is definitely another step. We really expanded our instrumental palette and did that while still maintaining that signature sound we've been developing over the years. We also put some 80's/90's goth-rock bonus tracks on at the end of the disc that will appear in the upcoming movie. While this does NOT mark a change in Midnight Syndicate's direction, it was fun to see them on there since it was the first time we had released anything like that since the first Midnight Syndicate CD back in '97.
Our audience base hasn't changed much over the years. When we first started out it was fans of gothic music and Halloween that really keyed into what we were doing. It was authors, sculptors, artists, designers in the Haunted Attraction industry, and people with good imaginations who just enjoyed listening to the discs to work to or just escape for a while. Roleplayers were also there at the beginning too as they saw our music as good atmosphere for their games. Those are the supporters who have given us this opportunity over the years and have kept us growing by sharing our music with their friends. It may sound trite but we really do have the best fans in the world.
SG: Halloween at my house isn't complete without Midnight Syndicate music for my trick-or-treaters and I understand that puts me in the company of Hugh Hefner and the Playboy mansion. How in the heck did THAT happen?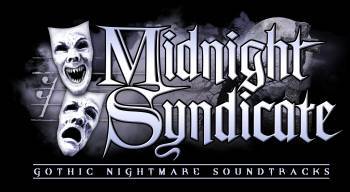 ED: One of the coolest things about this journey is watching how the music has gotten out there. When we first started, there was no one else doing this style of music (in the horror genre) and there were no good Halloween CDs out there (just Monster Mash­-style compilations and cheesey sound effects cassettes). When we released Born of the Night and started hitting the streets, the word got out and the CD spread. By 1999, we were being used in amusement parks like Busch Gardens, Cedar Point, Universal Studios Orlando, and yes… even Hugh's Halloween Mansion. We became the standard for the Haunted Attraction industry and that's an honor we continually work to maintain. Just last year, we had an attraction in Siberia register with us as well as several more in Europe and Asia – that's always cool to see. Being contacted by Hugh Hefner's Halloween designer or unexpectedly hearing the music on Monday Night Football and the Barbara Walter's special where she interviewed Ozzie are definitely fun moments you don't forget as well.
SG: Until now, you've called your work "soundtracks for imaginary films." What made you decide to finally make the real jump from music to making a movie? Was it about meeting girls?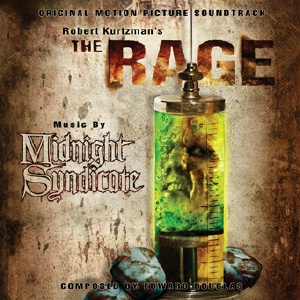 ED: Uh… no… why would you say that? What did you hear? I started dreaming about filmmaking after watching Star Wars as a kid. Most of my schooling surrounded theatre and filmmaking, and my first project out of college was the original The Dead Matter film which I directed and scored. Back then we only had $2000, a Super-VHS camera, and a 1-person crew but we got the movie done. Our goal back then was to gain experience and use that version of the film to do a remake with an actual budget.
It's always been a goal of mine to revisit filmmaking at one point. I felt it was inevitable that, as Midnight Syndicate, we would be drawn back into that world. The opportunity came about through our partnering with Robert Kurtzman and Gary Jones on The Rage which we did the soundtrack to. After watching how Bob and Gary ran their show, I knew they would be the perfect partners for The Dead Matter remake. I pitched the idea to Bob after production on The Rage wrapped, he liked it, and the rest is history.
SG: You are making your directorial debut with "The Dead Matter," a skill you probably can't pick up from reading a book, or can you? How did you learn about directing a movie?

ED: I studied theatre and filmmaking throughout high school, college, and afterwards at NYU. I did short films in college that I directed and scored. That set me up for the original The Dead Matter (1996) which was my first feature. I also shot short films and music videos to go along with the Midnight Syndicate multimedia concerts we had back in 1998. The concerts were a mix of original films, live theatrics, animation, and a band playing soundtrack live to the movies as they played. Filmmaking is a very collaborative effort. From the DP, Alex Esber, AD Phil Garrett, and Producer Gary Jones to the production assistants who worked so hard to make The Dead Matter a reality, it is a complete team effort.
SG: Considering your long history of making music, did the score inspire the movie or vice verse?
ED: I wanted to remake The Dead Matter because I like the story behind it and believed in the new script Tony Demci and I co-wrote. It never stemmed from wanting to make a movie from a Midnight Syndicate disc. Our discs are designed to stand on their own — be a soundtrack to imaginary film of your own creation. Although we've been tossing around some movie ideas tied to the Haverghast Asylum (from Gates of Delirium and The 13th Hour), Gavin and I hesitate to give too much of our own thoughts on a CD so we don't restrict someone else's interpretation of a CD.
SG: How did you develop the story line of "The Dead Matter?"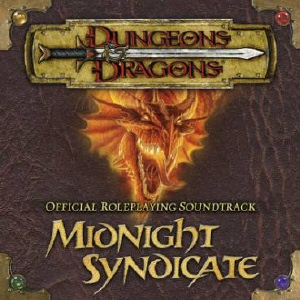 ED: The original production concept for The Dead Matter was heavily influenced by my years of playing Dungeons & Dragons. There is definitely fantasy and mysticism, mixed with the horror in this one. From there, the story line was developed by myself and Tony Demci (who co-wrote both scripts with me). Like any good collaboration, the final product was a mix of our best ideas and countless revisions (a lot of time). It's a very story-driven, old-school horror film that will appeal to the Midnight Syndicate fans who have been waiting a long time for this project to materialize.
SG: It has been said that the creative process is like giving birth. Is this true?
ED: I think so, complete with it's own ups and downs from start to finish. In the end you have something out there that is a reflection of part of yourself. Sometimes that's a bit scary.
SG: How long did it take to turn the concept of the film into reality?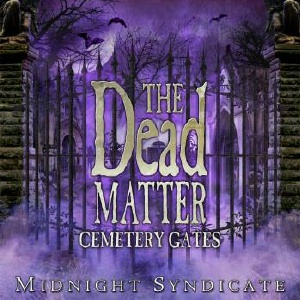 ED: We finished the original The Dead Matter in 1996. It wasn't until 2004 that I felt we were in a position to realistically contemplate producing a remake with an actual budget. Early on we got script advice from Ethan Dettenmaier (who was working on Sin-Jin Smyth at the time) then in 2005 Robert Kurtzman formed Precinct 13 Entertainment just south of us in Mansfield, Ohio. We started working with him on The Rage in 2006 and began pre-production on The Dead Matter at the end of 2006. Principal photography started in August of 2007 and lasted for four weeks. Right now we're in the final stages of post-production.
SG: Can you give us a hint about the plot? From "The Dead Matter – Cemetery Gates" it appears there might be mummies or other undead involved. True?
ED: I don't want to give too much away since the sub-plots and twists in this movie make for some of the coolest moments. Suffice to say it involves the living dead, vampires, and occult relics. It's heavily influenced by the horror films from the 60's/70's and early 80's as well as the classics from the 30's with a few modern twists to mix things up.
SG: When and where is "The Dead Matter" scheduled to be released?
ED: The movie will be done at the beginning of next year and released sometime in 2009.
SG: Are you going to have a red carpet debut for the film, and will Playboy bunnies be in attendance? Our male readers will want this information.

ED: We will be having a red carpet debut in Cleveland. It will be surreal night for those of us who have been waiting over twelve years to see this on the big screen. As for the bunnies?? You'll have to wait and see…
SG: For the scores of fans whose imaginations have been inspired by your music, what is your advice for getting their work published or even evolved into a script?
ED: Don't give up. It took us ten years to put ourselves in a position to remake The Dead Matter – but we never gave up. When Midnight Syndicate first started, the labels and distributors said "soundtracks to imaginary horror films? No thank you." So we formed our own label and distribution network and did it on our own. Don't listen to people who tell you "it can't be done." Opportunities are there you just have to work for them and be prepared to possibly make them happen yourself.
SG: Thanks Ed! We're just dying to see it!
Go to www.midnightsyndicate.com for The Dead Matter news and to purchase music CD's. Also, enter to win a trip to The Dead Matter premier!