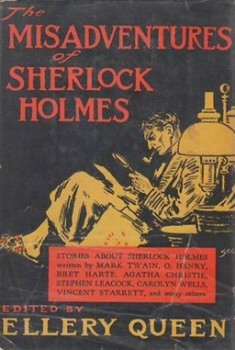 You've probably heard the name 'Ellery Queen,' but you may not know that it's actually the name for joint efforts by cousins Frederic Dannay and Manfred Lee. They were important players in the mystery field for decades, with Dannay being a notable Sherlockian.
In 1943, Dannay planned The Misadventures of Sherlock Holmes, an anthology of parodies and pastiches. Unlike today, Holmes anthologies were unheard of back then. Due in large part, as we'll see, to the management of the Doyle Estate by Sir Arthur Conan's sons, Adrian and Dennis.
The book, by Ellery Queen, was unveiled at a Baker Street Irregulars gathering in 1944. I gave a taste what dealing with Doyle's two sons could be like in my post on "The Man Who Was Wanted." There's more of the same in this tale.
Adrian heard about the collection and went off in his usual rage, telegramming his brother Denis (also a wastrel) in Spain. Denis cabled the Estate's law firm and instructed them to demand that Queen and the publishers, Little, Brown and Company, stop publication and withdraw all copies. They were also to be sued for damages.
To quote Denis's cable to the lawyers: "It is obviously a flagrant example of that very sort of piracy, striking at the very roots of the literary value of the property which my father left to his family, against which we have fought together in the past…books which will completely devaluate and ruin the whole value of the Holmes property, including films, radio and stage."
---