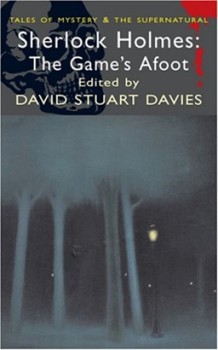 Our fearless leader, John O'Neill, has been reviewing entries in Wordsworth's Tales of Mystery & The Supernatural series: with emphasis on the supernatural end. So…I figured I'd look at one of the mystery entries.
Sherlock Holmes: The Game's Afoot, offers twenty new tales of the world's first private consulting detective. The real mystery is why I couldn't find a single reference to this book anywhere on Wordsworth's website. Curious, indeed.
Sherlockian pastiches are meant to emulate the style of Sir Arthur Conan Doyle's original tales. As opposed to parodies, which spoof Holmes.
With the explosion of self-publishing, the quality of pastiches has come to vary wildly. There is quite a bit of dreck out there and the days of buying every Holmes story listed on Amazon are long gone.
The eleven authors who contributed to this collection worked hard to create the same kind of atmosphere Conan Doyle did. David Stuart Davies is the editor of this Wordsworth series and is a well-respected Sherlockian. He includes three of his tales. June Thomson, John Hall, Dennis O. Smith … there are some well-respected Sherlockian names in this collection.
---