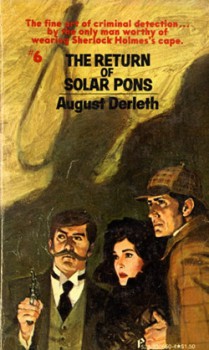 There have been a few posts here recently about fan fiction. That concept has been taken to its furthest extreme with the character of Sherlock Holmes. Amateur and professional writers have been penning tales about Holmes for about a century.
Parodies are stories that poke fun at Holmes. Many, such as this one I wrote (page 10), utilize Holmes himself and are clearly tongue in cheek. Others use "new" characters, such as Robert Fish's Schlock Holmes and his Bagel Street Saga.
But the more serious Holmes tales, those that attempt to portray Sir Arthur Conan Doyle's detective to varying levels, are called pastiches. Just about the earliest 'serious' attempt at a Holmes copy was by Vincent Starrett, who wrote "The Adventure of the Unique Hamlet" in 1920.
The Doyle sons (whom I wrote about here) didn't like pastiches and they're relatively uncommon during the first half of the twentieth century as they protected their copyright. The Doyle Estate has been fighting over the copyright right up to this month!
Richard Lancelyn Green's The Further Adventures of Sherlock Holmes collects many of the early pastiches, including several from the nineteen forties. There are thousands of pastiches out there now. Search "Sherlock Holmes" or "Sherlock Holmes anthologies" at Amazon and you'll get a list too big to go through. A future post will talk about some of my favorite pastiches, such as Frank Thomas's Sherlock Holmes & the Sacred Sword and Michael Hardwick's Prisoner of the Devil.
But this post is about the detective that Starrett called "The best substitute for Sherlock Holmes known": Solar Pons. In 1928, August Derleth, a college freshman at the University Wisconsin, wrote to Sir Arthur Conan Doyle, asking if there were to be any more Holmes tales. Receiving an emphatic reply of "no" scrawled on his own letter, Derleth made a note on his calendar: "In re: Sherlock Holmes."
---