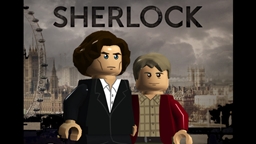 As a screen presence, Sherlock Holmes was essentially a dormant property from the nineties until 2009. Sherlock Holmes and the Vengeance of Dracula  was a hot script in 1999, with Christopher Columbus set to direct. But screenwriter Michael Valle died unexpectedly and Columbus went on to make some movies with a bunch of kid wizards in a pig school or something like that.
In 2009, Robert Downey Jr. breathed new life into the great detective in the global smash, Sherlock Holmes (worldwide gross: over a half a billion dollars! The sequel did even better).
Mark Gattis and Steven Moffat, writers on the successful Doctor Who series, decided to bring Holmes back to television, but with a twist: the setting would be modern day London. It was a HUGE success, artistically and commercially.
With references to the original stories by Doyle all over the place, including updatings of the original tales (the pilot, A Study in Pink, was a retelling of the first story, A Study in Scarlet), it was a fresh take on an old subject. And with Benedict Cumberbatch playing an obnoxious, young Holmes and likeable everyman Martin Freeman as his trusty sidekick, Watson, the three-episode series was a hit in the UK, America, and all over the world.
Season two was just as good, updating The Hound of the Baskervilles and turning The Woman, Irene Adler, into a dominatrix. Personally, after season two ended, Sherlock was one of my top five all-time favorite shows and even in a battle with Justified for the top spot.
---