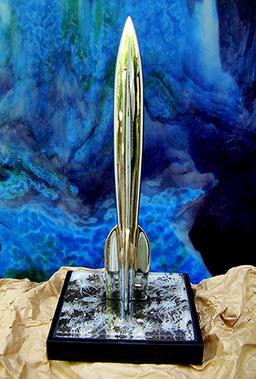 On April 4th, Black Gate was nominated for a 2015 Hugo Award for Best Fanzine. One of our bloggers, Matthew David Surridge, was also nominated as Best Fan Writer but, as he explained, he declined the nomination before the ballot was announced.
Since the nomination for Black Gate was for the entire site, which produces over 120 articles per month by a team of over 40 volunteers, I did not decline the nomination, although personally I shared many of the Matthew's concerns. However, over the last two weeks I've had the opportunity to hear from many of our bloggers, and by and large they share many of those concerns as well.
Accordingly, on Saturday, April 18th, I informed the administrators at Sasquan that we have withdrawn Black Gate from consideration for the 2015 Hugo Award.
As I explained in my previous  post, Sad Puppies and Super Puppies: The 2015 Hugo Train Wreck, (and in our original announcement), I have serious concerns about the legitimacy of the 2015 Hugo ballot, as it was largely dictated by a single individual, Vox Day, who campaigned for a slate of nominees on his website (the Rabid Puppies slate). To a lesser extent, it was also influenced by Brad Togersen's Sad Puppies slate. Together, the two slates successfully placed 61 nominees on the ballot. Black Gate was part of the Rabid Puppies ballot, although we were unaware of our inclusion until we were informed of our nomination.
In short, over the last two weeks I have come to agree with those arguing that the use of a slate — and particularly a slate that has 11 nominees from Vox Day's Castalia House, and nominates him personally for two awards — is a serious threat to the perceived integrity of the Hugo Awards.
---