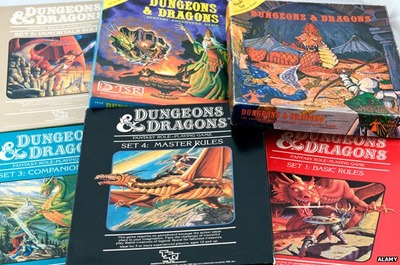 If you're as old (and as good-looking) as I am, you probably remember the occasional media hysterics surrounding Dungeons and Dragons in the late 70s and early 80s. Reports of teens committing suicide after playing D&D, getting lost in steam tunnels, turning to devil worship… it got to be almost routine by the mid-80s. You didn't even pay attention after a while.
It certainly caused problems for some gamers, though. I knew of a few who were forbidden to play D&D by their parents. My own parents certainly heard the reports, but my Dad had a practical solution… he asked to sit in on a game. He rolled up a character named Drawde (Edward spelled backwards) and trooped down in the dungeon with us.
It was a decent enough session, actually, although my brother Mike and I exchanged a few wide-eyed glances as Dad started busting in dungeon doors. My older sister Maureen tagged along, and even my Mom joined in for a while. I remember Maureen found a +1 ring and when I explained it protected her from attack, she sauntered to the front of the party and started talking smack to the next group of orcs they ran in to.
She got peppered with arrows, and my father had to come to her rescue. She hung out in the rear after that. "Anyone want to buy a magic ring?" she asked.
We never had another family session of D&D. But my father was apparently satisfied that the game wasn't leading Mike and I towards eternal damnation and we were never questioned after that, even as the press reports about the game got crazier. I think I still have Dad's character sheet somewhere.
---