Jay Lake, June 6, 1964 – June 1, 2014
Jay Lake, June 6, 1964 – June 1, 2014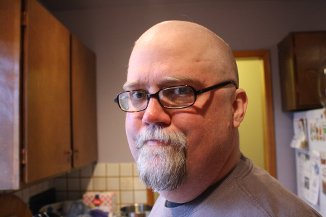 Jay Lake's website, jlake.com, is reporting that Jay passed away this morning.
Jay's first published story was "The Courtesy of Guests" in the Bruce Holland Rogers anthology Bones of the World in September 2001. I first encountered him in the Black Gate slush pile a few months later. His stories were wildly original, astonishingly varied, and frequently brilliant.
I purchased two, the enigmatic "Fat Jack and the Spider Clown" (BG 8), and the vividly original "Devil on the Wind" (BG 14, co-written with Michael Jasper). It was while working with Jay on the first that I discovered just how much hidden meaning there is in a Jay Lake story, and how carefully constructed they are.
Jay was diagnosed with colon cancer in April 2008 and he reported on the progress of the disease and his tireless efforts to combat it with brutal honesty on his blog. For years after his diagnosis Jay continued writing tirelessly, producing three major series: The City Imperishable (Trial of Flowers, Madness of Flowers, and the forthcoming Reign of Flowers, all from Night Shade), Mainspring (Mainspring, Escapement, Pinion, published by Tor), and three novels in the Green universe (Green, Endurance, and Kalimpura, all from Tor).
He published at least five additional novels and six collections. Last Plane to Heaven: The Final Collection, is due from Tor Books on September 16, 2014, and he was at work on at least one more novel, Original Destiny, Manifest Sin, at the time of his death.
Jay also had a significant impact on the field as an editor. He edited six volumes of the highly acclaimed Polyphony anthology series with Deborah Layne, in addition to All-Star Zeppelin Adventure Stories (with David Moles), Other Earths (with Nick Gevers), and many others.
Jay was a prominent figure at conventions around the country, always wearing Hawaiian shirts, and I have many great memories of Jay entertaining the crowd at con parties. He was vibrant, hugely entertaining, and always the center of attention.
Jay was the subject of the film Lakeside – A Year With Jay Lake by Waterloo Productions, which documented his battle with cancer. An early version was screened last year at the World Science Fiction Convention and it is scheduled for release this year.
As we reported in early February of last year, Jay began preparing his readers for his death with a blog post titled "The Hour and Manner of my Death."
The new metastatic tumor sites uncovered during the surgery make things a lot more serious than they already were. And that is saying something. I have not given up seeking a cure… but it seems highly likely to me I will go terminal within the year, or at best, sometime in 2014. Even then, it will take time for me to die, possibly up to another year…

Obviously I do not know the precise hour and manner of my death. But I know it will likely come in the next year or so, and it will come due to organ failure and the related system breakdowns as my cancer advances. The bullet with my name on it has been inching towards me for almost five years. I can watch it spiral in the air as it lazes ever onward toward my as yet still beating heart.
I only met Jay a handful of times, but he looms large in my memory. He was born two weeks after I was, on June 6, 1964, and died just five days shy of his 50th birthday. His loss is already keenly felt across the entire industry.