New Treasures: Nihal of the Land of the Wind by Licia Troisi
New Treasures: Nihal of the Land of the Wind by Licia Troisi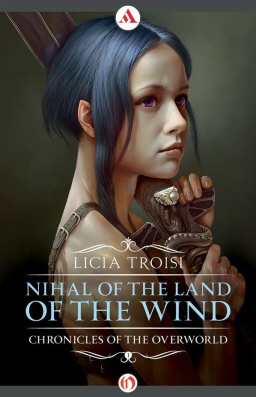 When I first got my Kindle, I imagined it would be a gateway to a whole new way to buy and read books. The ability to browse and download books in a matter of seconds, all from the comfort of my big green chair, was pretty darned appealing — not to mention the host of free samples and complete novels Amazon posts every week.
Well, it didn't unfold that way. Turns out that, by and large, I still buy and read novels primarily in paperback. And cover art and design have a huge impact on what I pick up every week… and frankly, much of the digital-only fantasy out there just isn't visually appealing enough for me to bother with.
That's starting to change, though. Exhibit A: Nihal of the Land of the Wind, the first volume of Chronicles of the Overworld, a bestselling Italian fantasy series by Licia Troisi. I have no idea who painted the cover — and the Kindle version doesn't tell me — but it is gorgeous (click for a bigger version). Here's the description.
Nihal lives in one of the many towers of the Land of the Wind. There is nobody like her in the Overworld: big violet eyes, pointed ears, and blue hair. She is an expert in swordplay and the leader of a handful of friends that includes Sennar the wizard. She has no parents; brought up by an armorer and a sorceress, Nihal seems to be from nowhere.

Things suddenly change when the Tyrant takes charge. Nihal finds herself forced to take action when she is faced with the most difficult mission a girl her age could imagine.

Fierce, strong, and armed with her black crystal sword, Nihal sets out to become a real warrior. Readers will be riveted as she forges her powerful path of resistance.
Licia Troisi is the top-selling fantasy novelist in Italy, and her YA Chronicles of the Overworld series has made her an international bestseller. This is her first novel to be translated into English, but I expect it won't be her last.
Nihal of the Land of the Wind was translated from the Italian by Ann Gagliardi and published by Mondadori on May 27, 2014. It is 282 pages, priced at $4.99 for the digital edition. The print edition will be published June 10.