Vintage Treasures: Chaosium's Thieves' World
Vintage Treasures: Chaosium's Thieves' World
There was a time when shared-world fantasy was brand new, and taking the genre by storm. That time was 1979, and the man at the helm was Robert Lynn Asprin, a midlist novelist who had never edited anything before in his life.
Robert Lynn Asprin was the guest of honor at one of the first science fiction conventions I ever attended, Maplecon 2 in Ottawa in 1979. He was a spirited and self-deprecating guest, telling stories of Joe Haldeman and Poul Anderson gently correcting his spelling and grammar ("These are the people I'm supposed to be editing?!") as he midwifed the birth of what would become one of the most successful fantasy franchises of the 20th Century: Thieves' World, the Ace paperback anthology that triggered an explosion in shared world fantasy over the next two decades. Thieves' World eventually encompassed thirteen collections and over half a dozen original novels, published between 1979 and 2004.
It wasn't the only new trend to emerge at the end of the 70s in fantasy fiction — in fact, it wasn't even the biggest. The influence of Dungeons and Dragons was cresting at the same time, and with the publication of Margaret Weis and Tracy Hickman's Dragons of Autumn Twilight, the first DragonLance novel, in 1984, the two genres finally collided, and neither would ever be the same again.
As fantasy fiction and gaming gradually blended throughout the 80s, it didn't just mean that bookstores were flooded with gaming novels. Gaming stores likewise were invaded with a new generation of book-inspired titles, from Iron Crown's Middle Earth Role Playing to Chaosium's Call of Cthulhu, and TSR's Conan and Lankhmar properties, just to name a few.
These two juggernauts of 20th Century fantasy, Thieves World and role playing, came together in 1981 with the release of the Thieves' World boxed set from Chaosium, a singular accomplishment that has been called the "Rosetta Stone of early roleplaying."
One of the hallmarks of Robert Asprin's Thieves' World was his incredible talent in gathering some of the biggest names in fantasy under his tent. His first two anthologies included contributions from Lynn Abbey, Poul Anderson, Marion Zimmer Bradley, John Brunner, David Drake, Philip Jose Farmer, Joe Haldeman, Janet Morris, and A.E. van Vogt.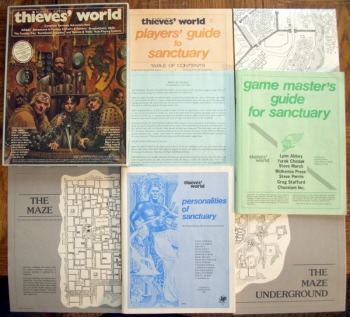 Editor Lynn Willis and Chaosium knew they had to accomplish something similarly daring with the game adaptation, and so they invited virtually every major creator in the small RPG industry to contribute — including Greg Stafford, Dave Arneson, Steve Marsh, Midkemia Press, Marc Miller, Steve Perrin, Lawrence Schick, Ken St. Andre, and many others.
The result was virtually unprecedented. The Thieves' World boxed set was fully compatible with no less than nine major RPG systems: AD&D, Adventures in Fantasy, Chivalry & Sorcery, DragonQuest, D&D, The Fantasy Trip, RuneQuest, Traveller, and Tunnels & Trolls.
It was also a completely furnished adventure supplement for gamers who wanted to open up the city of Sanctuary for their players to explore, and for readers who wanted to see the city laid bare before them, with detailed maps, stats for the personalities of Sanctuary — and even floorplans for the Vulgar Unicorn, the tavern that was frequently the heart of the action.
Chaosium's Thieves' World made me a fan of Robert Asprin's Thieves World books. It was a beautiful product that rose above the gimmick at its core. Sanctuary was the city where anything could happen, where characters created by some of the best fantasy writers of the generation crossed paths and shared adventures. Chaosium's Thieves' World became the setting where gamers of every stripe could likewise gather and share a beer… and perhaps an expedition into the caverns beneath The Maze together.
I haven't thought about Thieve's World for years, but I stumbled across a lonely copy at the Windy City Pulp & Paper show here in Chicago last weekend. It was on a table with a large stack of Judge Dredd comics, and I managed to purchase it for ten bucks. Flipping though the books and maps has rejuvenated my interest in the fiction of Sanctuary again. It's a fine product, and it doesn't deserve to be forgotten.
It may take effort to track down your own copy, but it's worth it.
Thieves's World was published in 1981 by Chaosium. It is a boxed set with three books and three separate maps, and was published in at least two editions (the pics above are from the first edition – click on the images for larger versions).