The Magazine of Fantasy & Science Fiction, July 1961: A Retro-Review
The Magazine of Fantasy & Science Fiction, July 1961: A Retro-Review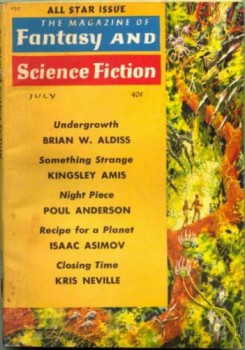 Now to an early '60s issue of F&SF. This one has an Ed Emshwiller cover, illustrating Brian Aldiss's "Undergrowth." It is billed as an "All-Star Issue," which I find curious, as several of the writers are what I would call "Little-Known."  I'll get into that a bit later.
The features: No interior illustrations, of course. There is of course Isaac Asimov's Science article, "Recipe for a Planet," which goes into great detail on the components of the Earth.
There is a Books column by Alfred Bester. He discusses a couple of Dover editions of Jules Verne, as well as a film about him (The Fabulous World of Jules Verne). He treats Kingsley Amis's New Maps of Hell (with approval, expressed in no detail, and accompanied by a recommendation for Lucky Jim, "the funniest first novel since Pickwick Papers" [(Which later first novel might be added? A Confederacy of Dunces?]). He follows with three reviews of short story collections, by Knight, Nourse, and Pohl.
That tells us something, doesn't it? How likely would  a review column today be to cover not a single current novel, but three collections?
And I suppose Feghoots can be called a feature, too. This issue features number XLI in "Grendel Briarton's" series. I have enjoyed my share of Feghoots over time, but this one is awful, and not in a good way, concerning intelligent gnus. Really, one thinks, surely Mills (or whoever was editing F&SF at any particular time) could have rejected the really bad Feghoots. Bretnor had to know better. ("Grendel Briarton" was a pseudonym, and an acronym, for Reginald Bretnor.)
There is also one brief poem, by Doris Pitkin Buck, called "Vintage Wine," discussing vampires … not bad at all.
The short fiction, then:
"Something Strange," by Kingsley Amis (7,000 words)
"Package Deal," by Will Worthington (5,100 words)
"The Cat Lover," by Nicholas Breckenridge (3,100 words)
"The Zookeeper," by Otis Kidwell Burger  (3,900 words)
"Closing Time," by Kris Neville (2,300 words)
"Night Piece," by Poul Anderson (6,000 words)
"Undergrowth," by Brian W. Aldiss (20,200 words)
I'll note first the length designations. Amis's story, a short story by today's Hugo and Nebula rules, is called a "short novelet." Aldiss's story, a novella by Hugo/Nebula rules, and a "short novel" by the rules of most magazines of that time is called simply a "novelet."
To the "All-Star" authors. To be sure, Aldiss and Anderson and Amis are A-list authors (in SF terms). Amis of course was not then (and never, really) known for his SF, but right at this time his New Maps of Hell was generating immense comment (as noted in the Books column). And in fact he wrote several SF stories, and a few SF novels, over his career. (Of the novels, arguably The Anti-Death League, Ending Up, The Alteration, and Russian Hide-and-Seek are SF, with The Green Man a Fantasy, and also "Robert Markham's" Colonel Sun, a James Bond novel, and thus a techno-thriller of sorts.)
Kris Neville was never as prominent, but one could certainly countenance his being called a "star" in this context.
The other three authors, though, are much less known in SF contexts. Otis Kidwell Burger, it must be acknowledged, had some notice as a mainstream writer, though she's all but forgotten by now. "The Zookeeper" was the first of four stories she published in the SF magazines (two more in F&SF and one in Galaxy).
Burger's husband was Knox Breckenridge Burger, a very well-known literary agent and editor (at Gold Medal Books, as I recall). Knox Burger published only one SF story, according to the ISFDB, and it was "The Cat Lover," as by "Nicholas Breckenridge." A "star" he was, I suppose, but not as "Nicholas Breckenridge," and not as a writer.
And finally "Will Worthington" was in reality Will Mohler, who published several SF stories, mostly as by "Worthington," but who doesn't really seem very well-known at all. Not to my mind a "star" – though I welcome corrections!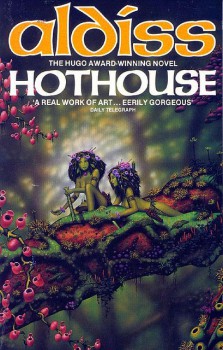 Anyway … the stories themselves. I had of course read "Something Strange" before, in one of Amis's collections. It was originally published in the Spectator in 1960. It's an odd piece, definitely SF, opening with a group of four people, two couples, on what they believe to be a space station in the depths of the galaxy. Occasionally, the station is subject to strange phenomena outside it. The story follows the four, especially one woman, Myri, a writer of sorts, and one man, Bruno, a somewhat cruel but intelligent person. Things really are strange, and eventually of course we learn where they really are, and, perhaps, "who" they really are. It didn't quite work for me on first reading, and I feel the same way on rereading.
"Package Deal" concerns a spoiled rotten rich kid, Poopy Sunnyfield IV, who is compelled by his grandfather's will to eventually leave off despoiling young women and wrecking cars and attend a rigorous and unpleasant college. Will his legendary "luck" help him through this experience? Perhaps. But will it be worth it? The resolution, logical enough in its way, didn't really satisfy me.
"The Cat Lover" is pure genteel urban fantasy/ghost story in a mode very familiar to F&SF of that era – a man tells of an acquaintance who loved cats and what happened when one of his cats fell ill and had to be put down. Very minor work indeed.
Otis Kidwell Burger's "The Zookeeper" was the surprise for me here. It's set in the very far future, told by a denizen of that future who retrieves a young widow from what seems our time, and brings her to the future for what seems intended to be the amusement of the decadent folks of that time – and then commits the terrible sin of falling in love. For about 95% of the story, it is poetic and imaginative and moving and convincing. Alas, I think the attempt at a "shock" ending falls utterly flat. But even so, I think this a story worth rediscovery. (The ISFDB shows only one reprint, that a bit obscure, in the UK edition of Venture in 1963.)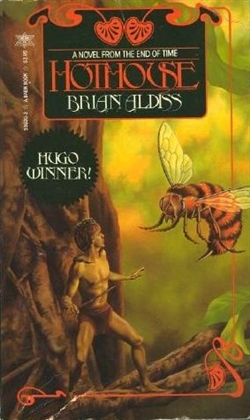 "Closing Time," by Kris Neville, is a bar story in which a group of people discuss the lack of evidence of other intelligent life. One man, a stranger, suggests a potential reason… which for some reason scares the daylights out of another man, a physicist. It all depends on a rather silly formulation of e=mc2, and frankly I was thrown out of the story by the strained logic therein.
"Night Piece" is somewhat well-known among Poul Anderson's stories for being fairly uncharacteristic of him. It's about a professor investigating ESP who has stumbled upon evidence of what he calls "Superiors," beings that to us are as we are to mice. Because he can, in a limited way, perceive their existence, he recognizes that he is an ignored vermin caught up in their unrecognizable conflicts – and the story concerns his desperate trip home one night, believing all along that he is being batted about by the strange forces of the "Superiors." I'd put this in the category of "nice try that really doesn't come off," but others may disagree.
Finally, "Undergrowth" is the third story of Aldiss's Hothouse series, about a far future in which plants have overgrown the Earth and even extend to the Moon. The series as a whole is really cool stuff, and the group of F&SF short stories won the Hugo in 1962. They were published as a novel, Hothouse (abridged as The Long Afternoon of Earth in the US).
I like the novel quite a lot, its scientific absurdities aside. This story follows Gren, who is ultimately the novel's main character, early in his journey with his friends to Nomansland. It's very fine stuff.