New Treasures: American Gothic Tales
New Treasures: American Gothic Tales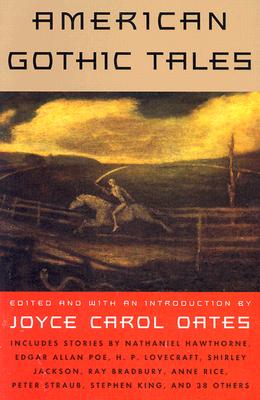 I've had my eye on this collection for a while, but it was Matthew David Surridge's fascinating four-part series on Joyce Carol Oates's Gothic Quintet that finally nudged me over the edge. I ordered it last week, and have been enjoying it ever since.
To be honest, while I was prepared for a survey of American horror, my brief perusal of the contents before I laid down my money led me to believe it was slanted towards modern writers such as Ursula K. Le Guin, Anne Rice, Peter Straub, Harlan Ellison, and Stephen King. And while they're all represented, the book doesn't neglect the classics either.
They're all here: Washington Irving's "The Legend of Sleepy Hollow," Nathaniel Hawthorne's "Young Goodman Brown," Herman Melville's "The Tartarus of Maids," Poe's "The Black Cat," Charlotte Perkins Gilman's "The Yellow Wallpaper," Henry James's "The Romance of Certain Old Clothes," Ambrose Bierce's "That Damned Thing," and many more.
How does it manage that? By being nicely huge: the trade paperback is 546 pages.
Something else I appreciate is the nice selection from modern authors who aren't usually represented in horror anthologies: Paul Bowles's "Allal," Robert Coover's "In Bed One Night," E. L. Doctorow's "The Waterworks," Don DeLillo's "Human Moments in World War III," Raymond Carver's "Little Things," Joyce Carol Oates's "The Temple," and Steven Millhauser's classic "In the Penny Arcade."
And if that's not enough for you, there's also a varied selection from horror writers more associated with the genre, including Thomas Ligotti, Nancy Etchemendy, Bruce McAllister, Kathe Koja and Barry N. Malzberg, Katherine Dunn, John Crowley, and Lisa Tuttle.
It's not perfect — where are Fritz Leiber, Frank Belknap Long, Hugh Cave, or Dan Simmons? — but it's damn close. American Gothic Tales, edited by Joyce Carol Oates, was published in trade paperback by Plume in December, 1996. It is $21 for 546 pages; there is no digital edition.