One-Year subscription to Black Gate now available for $21.95
One-Year subscription to Black Gate now available for $21.95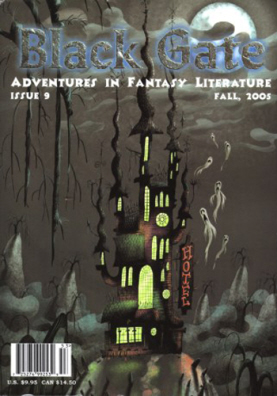 We've just re-vamped our subscription page, and as part of the changes we've introduced a new two-issue (one year) subscription option for just $21.95.
Black Gate is published twice a year, and priced at $12.95/issue for 256-304 pages of the best in modern adventure fantasy ($15.95 for our jumbo-sized issues, such as Black Gate 1 and Black Gate 14). Now you can find out what everyone's talking about for just $21.95 — delivered right to your door.  A two-year, 4-issue subscription is just $39.95.
What are people saying about Black Gate?  "I was poleaxed, banjaxed, gobsmacked and just plain overwhelmed."  (Tangent Online)  See all the coverage of our latest issues here, and reviews of our first six issues here.
Got an e-reader? Try any current issue of Black Gate in PDF for just $4.95 — or four issues for only $17.95. Or add a PDF edition to your print subscription for just $2.95/issue.
And don't forget our Back Issue Sale: any two issues for just $21.95, or any four for $39.95, plus shipping.  And yes, that includes our double-sized issues, both normally priced at $15.95.
We're selling back issues only while supplies last — which won't be much longer for many of our earliest editions.  We're down to a few dozens copies of BG 3, BG 4, and BG 5, and we'll be bringing the last of them to Dragon*con in two weeks, where we expect to exhaust our supply fairly quickly.  If you're interested, better move quickly.