An Introduction
An Introduction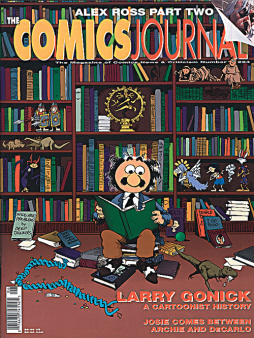 It's only polite to introduce yourself properly, and as this is my fourth posting on this blog, a proper introduction is really overdue. So: Who am I, and what am I doing here?
I'm a writer. I've had two short stories published so far, including "The Word of Azrael" in the most recent issue of Black Gate (previewed here), and I'm working on a novel. Several novels, actually, but at the moment only one is actively ongoing.
I also write non-fiction, most notably articles for Old News magazine, short biographies telling true stories from the past. I've written criticism and journalism for places including The Comics Journal and the Montreal Gazette. Oh, and I helped cover the 2009 Worldcon for the Gazette (you can find my blog posts about the convention here, along with posts by my colleague, Claude Lalumière, who wrote a comic column for Black Gate a few years back).
I'm also a reader. Like, I'd imagine, most people around these parts, I read a lot, and I love browsing book fairs and used book stores looking for an oddity, a novelty; trawling through the past, magpie-like, looking to pick out glittering fragments that would otherwise be lost in the ocean of published texts.
My sporadically-updated personal blog, Hochelaga Depcta, is mostly a record of what I've read, a venue to put down the thoughts that strike me. I'm hoping to do something a bit more focused here.
As a writer and as a reader I'm fascinated by fantasy, in almost all its forms, and that's been the case for as long as I can remember (and when I say "all its forms," I do include science fiction and horror). So in my contributions here, which I intend to post every other Sunday, I aim to write about fantasy and fantasy stories.
I'd like to discuss some fantasies that impressed me but that I don't often see mentioned elsewhere. I'd like to write about stories, and how they work, and how fantasies work. And, in the end, I hope to discover something as well.
As I say, I've been reading stories of the fantastic for all my life — but I've never been able to say why they mean so much to me. 'Escapism' has never really seemed a sufficient explanation. Since I like to spend time thinking about the things I like, and why I like them, this inability to articulate the appeal of fantasy has begun to trouble me.
So, in writing about fantasy, I'm hoping to figure out what it is that appeals to me. Why am I so passionate about these stories? It's a long-term goal, but I think in trying consciously to explain to other readers what it is about a book that hooks me, I have to start by explaining it to myself.
Now, if you've read this far, you've probably got an interest in fantasy itself. So, if you don't mind giving me a hand in the comments below, I'd like to put the question out to you: What is it in fantasy that interests you? What do you get from fantasy that you don't get anywhere else? When you sit down with a new issue of Black Gate, what do you look for out of it?
Any answer will be most gratefully accepted.
---
Matthew David Surridge is the author of "The Word of Azrael," from Black Gate 14. His blog is Hochelaga Depicta.