Representations of the Amazon in Poul Anderson's Virgin Planet and in DC's Wonder Woman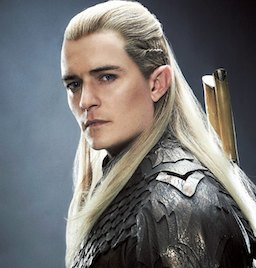 But first, I'd like to ask readers a very important question:
Do Tolkien's Elves have pointy ears?
This came up after my last post, in which I wondered why Anderson and Tolkien (and many other fantasy writers) agree that elves are tall and have pointy ears. After reading this, Frederic S. Durbin contacted me to say,
Does Tolkien ever say that the elves have pointed ears? To my knowledge, he never does. Please correct me if I'm wrong! This is a bone I had to pick a few years back, when some writer somewhere described hobbits as having "hairy toes and pointed ears." I think this misconception about Tolkien's elves and hobbits has come from artwork. Artists need to have a way of making magical races look different from humans, so they go for the ears. We need Spock to look different from humans in a cheap and easily-reproducible way from day to day in the studio, so we give him pointed ears. People have been seeing illustrations of pointy-eared elves and hobbits for so long that they've begun to believe Tolkien described them that way. I don't think it's true. (Again, I'm willing to stand corrected if someone shows me a passage!)
So there you have it, folks! Please help! Is there a passage anywhere in Tolkien's writings that suggest that Elves (or even Hobbits) have pointy ears?
And now let's turn our attention to Poul Anderson's Virgin Planet.