Random Reviews: "Why Do You Think They Call It Middle Earth?" by Susan Casper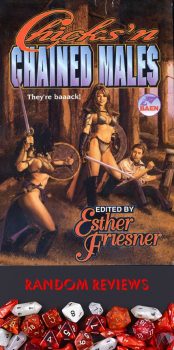 Because I've been asked about the process by which I've been selecting stories for the Random Review series, I thought I'd take a moment to explain how the stories are selected.
I have a database of approximately 42,000 short stories that I own sorted by story title. When it comes time for me to select a story to review as part of this series, I role several dice (mostly ten sided) to determine which story should be read. I cross reference the numbers that come up on the die with the database to see what story I'll be reviewing.  This week I rolled 40,278, which turned out to be Susan Casper's short story "Why Do You Think They Call It Middle Earth?"
One of the things I hoped to get out of this series, from a personal point of view, was to discover authors and short stories that I've owned and have never read. Of course, I also hoped to share those discoveries, good or bad, with the readers of Black Gate.
Casper's story is told from Emily Prentiss's point of view, a thoroughly unlikable, self-absorbed woman who prides herself on her no-holds-barred attitude in the boardroom. While berating a homeless man one day, she falls through a crack in the earth and finds herself in a fantastic realm, intent on finding someone who will pay for her misfortune.