Birthday Reviews: A.E. Van Vogt's "War of Nerves"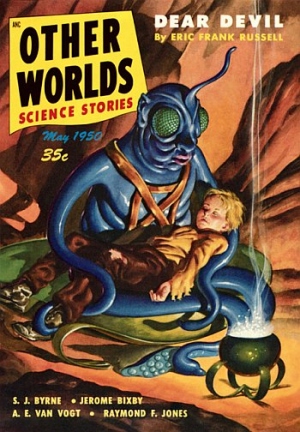 A.E. (Alfred Elton) van Vogt was born on April 26, 1912 and died on January 26, 2000.
Van Vogt began publishing science fiction with "The Black Destroyer," the first of four stories which became his novel The Voyage of the Space Beagle. His other major works include Slan, The Weapon Shops of Isher, and The World of ­Ā.
In 1966 his story "Research Alpha," co-written with James Schmitz, was nominated for the Nebula Award for Best Novella. In 1996 his "The Mixed Men" and The World of ­Ā were both nominated for Retro Hugo Awards. That same year he received a Worldcon Special Convention Award for his six decades in science fiction. He finally won a Retro Hugo in 2017 for the novel Slan. His The Weapon Shops of Isher received a Prometheus Hall of Fame Award in 2005. He received a Forry Award in 1972 and an Aurora Award for Lifetime Achievement in 1980. In 1996, he was named an SFWA Grand Master and was inducted into the Science Fiction Hall of Fame.
"War of Nerves was incorporated into van Vogt's fix-up novel, The Voyage of the Space Beagle, the last of the four stories published (although set after the first story in the novel). It originally appeared in Other Worlds magazine in the May 1950 issue, edited by Raymond Palmer, the only one of the four not to appear in Astounding. The original story has been reprinted in van Vogt's collections Monsters, The Best of A.E. van Vogt, and Transfinite: The Essential A.E. van Vogt. Monsters has also been published under the title The Blal. The story has been translated into French and twice into Italian.
"War of the Nerves" describes a telepathic attack on the Space Beagle by a previously unknown race, the Riim. The attack, which comes out of nowhere, results in the crew becoming either incapacitated or allowing their pent up emotions free. The scientists on board take sides in a civil war between factions and the military men begin looking for an excuse to let their hostility towards the scientists loose.