The Ballantine Adult Fantasy Series: Land of Unreason by Fletcher Pratt and L. Sprague de Camp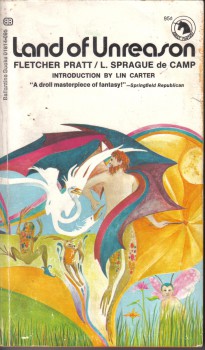 Land of Unreason
Fletcher Pratt and L. Sprague de Camp
Ballantine Books (240 pages, January 1970, $0.95)
Cover art by Donna Violetti
Lin Carter ended the inaugural year of the BAF series with a reprint of a novel from the pulp Unknown, Hannes Bok's The Sorcerer's Ship. His first selection for the series' first full calendar year was another tale from Unknown (the October 1941 issue), a collaboration between Fletcher Pratt and L. Sprague de Camp.
Land of Unreason followed the first two Harold Shea stories among their collaborations. In this story, they introduce a new character, a young diplomat named Fred Barber, who is taking a medical rest in the Irish country-side.
One night, he notices his hostess leaving some milk out for the fairies, so that her infant son won't be taken and a changeling left in his place. Fred is contemplating his bottle of single malt to help him get to sleep and decides he's rather have the milk since that has been his proven cure for insomnia all his life. Also, milk is strictly rationed, and he doesn't want to see it wasted. He drinks most of it, leaving just a little, into which he pours a generous amount of his whiskey.
Fred then goes to bed and quickly drops off to sleep. The fairy who finds the whiskey drinks it and gets plastered. Since he didn't get any milk, he goes into the house to take the baby and leave a changeling. Only in his inebriated state, he takes Fred rather than the infant sleeping in the next room.