Talking The Rings of Power: Numenor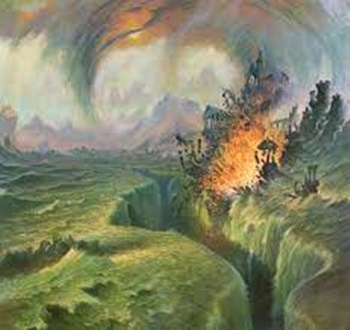 Sticking with my assessment that it's better than The Shannara Chronicles, but not as good as Wheel of Time, it's back to The Rings of Power.
Previously, I visited the sad story of Miriel (Tar-Miriel). Tolkien speculated on a couple back-stories to her marriage to Ar-Pharazon, but dropped all of them. Click on over and check that one out. He had some neat ideas.
I will say that I think that Numenor is one of the two strongest points in the show. It helps offset the fan-fiction level plotting and all the harfoot clutter.
THE GOOD
Numenor is one of my favorite things in The Silmarillion. Not surprisingly, The Rings of Power has been a bit free with adapting it. But overall, I think Numenor is one of the highlights of the show, and they could have done a lot worse.
Visually, Numenor is stunning. It was a great island empire in The Silmarillion, and they did a terrific job of conveying the splendor of Armenolos, the capital city. As Halbrand and Galadriel arrive on Elendil's ship, the city is unveiled in majestic fashion. The big CGI budget absolutely pays off.
The Argonath – two giant statues of Isildur and Anarion, on the River Anduin – were a highlight of Peter Jackson's movies. They stand, with their hands out in a gesture of defiance from the folk of Gondor.