Charlene Brusso Reviews The Way of Kings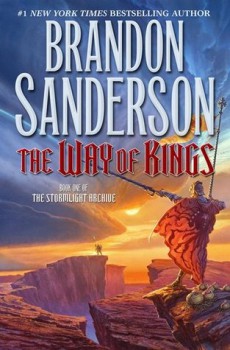 The Way of Kings
Brandon Sanderson
Tor (1280 pp, $8.99, May 2011 mass market)
Reviewed by Charlene Brusso
When does the end justify the means? That is the overarching question posed in the first volume of Sanderson's new series. It's a tough one, and an excellent choice for exploration within an epic fantasy framework. Working on the Wheel of Time series has made Sanderson's writing longer, but thankfully it hasn't dulled his skill at worldbuilding, or his masterful ability to create vivid characters caught up in challenging situations.
The Way of Kings is an ancient text which discusses how to protect a nation and govern honorably. Most of its teachings, however, are poorly regarded – in fact, outright heretical – by the powerful Vorin church in contemporary Roshar, some 4500 years after it was written. The text comes from the time of the lost Radiants, noble warriors whose mighty Shardblades gave them powers beyond normal men. But the Radiants disbanded, abandoning their responsibilities, and none now knows the truth of those times. And so the text has fallen into disfavor.
Millennia later, the current king, Elhokar, has his hands full fighting off Parshendi incursions, and no time or interest in reading heretical philosophy. His father's assassination left him in control of a vast kingdom under siege, and he is determined to do whatever he must to hold it together. The last thing he needs is to lose his top commander and most trusted advisor, his uncle Dalinar, to insanity.