Birthday Reviews: John Helfers's "The Final Battle"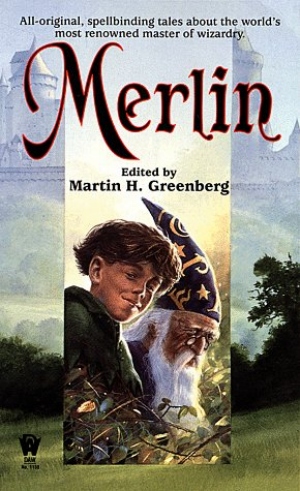 John Helfers was born on November 29, 1972.
Helfers has been nominated for the Hugo Award, both times in the Best Related Work category. In 2009 he and Lillian Stewart Carl were nominated for The Vorkosigan Companion: The Universe of Lois McMaster Bujold and in 2013, he shared a nomination with Martin H. Greenberg for I Have an Idea for a Book…: The Bibliography of Martin H. Greenberg. While Helfers has written numerous short stories and novels, he is perhaps best known as an editor for Tekno Books and Five Star Press and he has worked on many anthologies which did not include his name on the cover. He has collaborated on fiction with Jean Rabe, Russell Davis, and his wife Kerrie L. Hughes. His editing collaborations are too numerous to mention. He has also published works under the house name James Axler.
"The Final Battle" was published in Martin H. Greenberg's anthology Merlin in 1999. The story has never been reprinted.
In Helfers's story, Merlin, recently escaped from his confinement by Nimue, is shown to be a tremendously powerful magic user. Rather than showing Merlin participating in rituals to call down lightning, the magic Merlin does is almost an afterthought. A wave of his hand conjures a massive castle and, once inside, he uses magic as readily as anyone else would use breathing. Difficulties occur when he grafts himself onto a familiar, a sparrow, who flies out and discovers that Arthur's nemesis, Mordred, is approaching Merlin's castle. Mordred's casual destruction of the sparrow and Merlin's bond to it warns the magician of Mordred's intent and that Arthur's bastard is more powerful than Merlin expects.