Now Streaming: The Adventures of Buckaroo Banzai Across the Eighth Dimension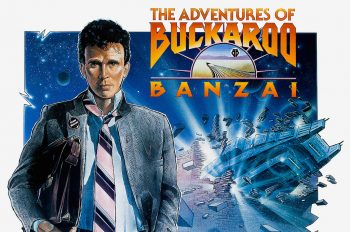 On August 10, 1984, The Adventures of Buckaroo Banzai Across the Eight Dimension made its first appearance in theatres the United States. The film did not do well in its initial box office release, but over the years it has amassed a cult following based on its subsequent releases on home video. In addition, the two graphic novels have been released to follow the story of its protagonist, Buckaroo Banzai.
In an article I published in World Watch One, a Buckaroo Banzai zine, earlier this year, I argued that one of the issues with the film is that it is so different from anything else, people who go in with any expectations (or even none), have a tendency to bounce off the film, wondering what it was, exactly that they had just watched. A second viewing, in which the basic outline of the film is known, however, allows the viewer to fully appreciate the weirdness which interlaces every moment of the film.
At one point in the film a thoroughly confused President Widmark (Ronald Lacey) comments, "Buckaroo, I don't know what to say. Lectroids? Planet 10? Nuclear extortion? A girl named 'John'?" which, I imagine, is how many viewers feel about the movie.