Blogging Dell Comics' Hercules and Hercules Unchained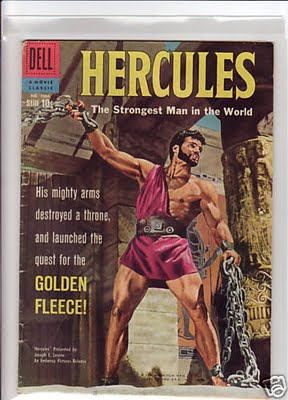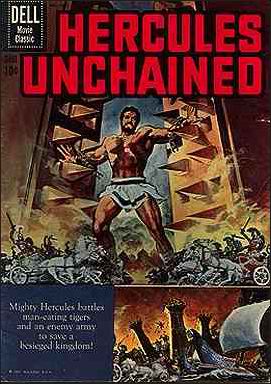 When bodybuilder turned actor Arnold Schwarzenegger brought Robert E. Howard's Conan the Barbarian to the big screen in a pair of stylish costume dramas in the early 1980s, it ushered in a Sword and Sorcery craze with scores of imitators on the big and small screen eager to recapture the first film's runaway success. For many, it was as if history was repeating itself for in the 1950s, bodybuilder turned actor Steve Reeves had starred in a pair of Sand and Sandal epics, Hercules and Hercules Unchained that created a similar sensation. The Italian sword and sandal craze (or peplum, to use their proper title) dominated the European box office in the late 1950s until the advent of the so-called Spaghetti western in 1964. The film that started it all was Pietro Francisi's The Labors of Hercules (1957) which was dubbed in English by Joseph Levine's fledgling Embassy Pictures and released as Hercules by Warner Bros. in the US in 1958. Its success led to a Dell Comics adaptation by the legendary John Buscema in 1959.
The plot of this first film was a reworking of the Greek myth of Jason and the Golden Fleece with Heracles (going by his Roman name, Hercules) promoted from a supporting player to the lead role. Of course within a few years, Charles Schneer and Ray Harryhausen would cover much of the same territory with Jason and the Argonauts (1963) creating a lasting classic which would quickly supplant the movie that started it all. The latter film's longevity is largely due to Harryhausen's superb stop motion effects work which continues to influence film-makers after half a century.