Birthday Reviews: Roland J. Green's "Strings"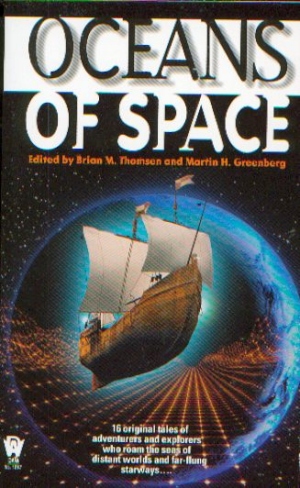 Roland J. Green was born on September 2, 1944.
Green's only award nomination was for the Sidewise Award in 1998 for his story "The King of Poland's Foot Cavalry." He has used the pen name Jeffrey Lord for his work on the Richard Blade novels. In addition to his own Wandor series, he has written Conan and Dragonlance novels. Green collaborated with Jerry Pournelle on three books in the Janissary series, with Gordon R. Dickson on the novel Jamie the Red, Andrew J. Offutt, John Carr, and with his wife, Frieda A. Murray. Along with Harry Turtledove, he co-edited two volumes in the Alternate Generals anthology series and co-edited Women at War with Lois McMaster Bujold.
Green wrote "Strings" for the anthology Oceans of Space, edited by Brian M. Thomsen and Martin H. Greenberg in 2002. The story has never been reprinted.
In "Strings," Green creates a complex interspecies political system in a short amount of space, presenting humans, Baernoi, and K'thressh in the same system. The humans and the Baernoi are attempting to navigate the possibility of open warfare between them while the telepathic K'thressh monitor, and possibly influence, the system.
Green's entry into the story is through the eyes of Brigitte Tachin, a newly minted lieutenant aboard the FSS Trollstep. As the situation escalates with the realization that the Baernoi may have established an illegal colony on the nearby planet, Tachin's commander begins to give orders that heighten the risk of war and Tachin must decide whether she will follow the orders and possibly die, or refuse them and jeopardize her fledgling career. The realization that the K'thressh are watching telepathically and might be influencing the decisions on both sides for their own gain only raises the stakes.
The situation is interesting, but Green's focus on the military details of the human's attack on the Baernoi forces tends to detract from the ethical considerations that Tachin raises in her decision to follow or ignore her commander's orders. Green manages to lessen the impact of the situation he has set up by moving the story into the realm of standard military science fiction.