Birthday Reviews: M. Rickert's "The Super Hero Saves the World"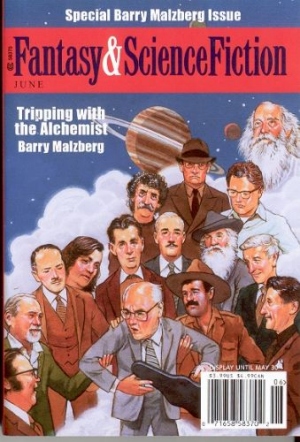 M. (Mary) Rickert was born on December 11, 1959.
In 2007, Rickert won two World Fantasy Awards,  for her collection Map of Dreams and for the short story "Journey Into the Kingdom." She won the 2012 Shirley Jackson Award for "The Corpse Painter's Masterpiece." Map of Dreams also received the William L. Crawford – IAFA Fantasy Award for best first fantasy novel. Rickert has also published using her full name.
Rickert originally published "The Super Hero Saves the World" in the June 2003 issue of The Magazine of Fantasy and Science Fiction, edited by Gordon Van Gelder. She also included it in her first collection, Map of Dreams. It has not otherwise been reprinted.
"The Super Hero Saves the World" is a story of magic realism about a young girl, Marcado, who as a young child managed to survive an attack by a python that killed her mother. Rickert follows the relationships between Marcado and her sister, Elsine, and their relationship with their father, who was with Mercardo when the snake swallowed her, although Marcado was cut from the snake's belly. Perhaps because of her experience, Marcado grows up distant from the rest of her family and sees the world in a different way.
While Elsine has a life filled with boys and fun, Marcado keeps to herself, focusing on dancing whenever she can, finding a freedom and safety in movement, although she understands that it exasperates both her sister and father, so she avoids it when they are around. Her father especially is distant from Marcado, perhaps blaming her for his wife's death when his daughter survived the same attack. He not only ignores her dancing, but when a teacher praises a poem Marcado wrote about being a super hero, his only response is annoyance at being called from work for something as minor as his daughter's creativity.
Marcado eventually comes to an understanding with her sister, as well as coming to terms with the death of her mother and her own strange experience, though she never manages to overcome the barrier between herself and her father. The super hero she sees in herself, with the strange origin story, is working to make her world a better place, giving her peace, and eventually building up a friendship with Elsine and her husband. She must, however, continue to strive to save the world until she makes contact with her father.