Birthday Reviews: Jennifer Roberson's "Mad Jack"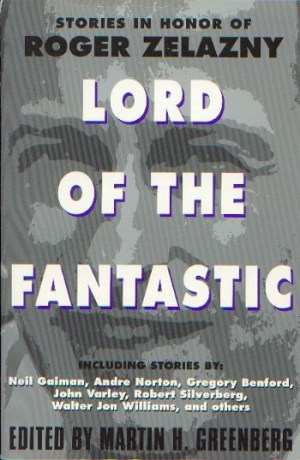 Jennifer Roberson was born on October 26, 1953.
She collaborated on The Golden Key with Melanie Rawn and Kate Elliott, which was nominated for the World Fantasy Award for Best Novel in 1997.
Roberson wrote "Mad Jack" for inclusion in the memorial anthology Lord of the Fantastic: Stories in Honor of Roger Zelazny, edited by Martin H. Greenberg in 1989. She has also republished the story in her own collection, Guinevere's Truth and Other Tales, released in 2008.
"Mad Jack" tells the story of a man who lost his infant son to random gun violence. Unable to cope with his loss, his life falls apart and he comes to the decision that he needs to go on some sort of epic quest to make things right and find a simpler time. His decision causes strife with his wife and his boss, but he eventually makes the journey to Scotland via bus and train to find something that has been missing from his life for a long time.
Roberson's description of Jack and his attempts to come to terms with his son's death is a focused look at one individual's grieving process. Although there is reference to the way others view his needs, Jack never interacts with any of them within the confines of the story; his thoughts turn almost entirely internal. While he notes that his wife and boss both think he is mad, there are no overt signs of madness.
Roberson plays the story close to her chest. It is clear that Mad Jack is supposed to be recognizable, although who he is, or even the time period in which the story takes place, is not entirely clear until the end. Once they story reaches its conclusion, the question of whether Jack is mad, has reverted to childhood, or is having an actual experience is ambiguous, which is one of the strengths of fantasy as a genre.