Charles R. Saunders' 'Luendi'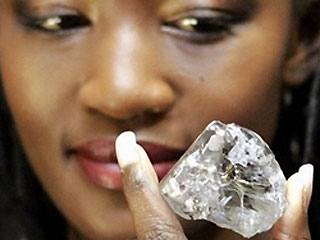 Charles Saunders has posted a terrific short story over at the blog section of his website — the sort of story that would not have been out of place in a classic issue of Weird Tales. 'Luendi' is in four, rather short, parts, and gives us the fate of one Piet van Brug, a man that embodies all the vilest characteristics of imperialism. Colonial Africa in 1890 is the setting, or more precisely an unexplored section of the interior beyond the British and Boer possessions of South Africa dubbed 'Azungaland' by its conqueror. It is an area rich in diamonds — rich enough to bring the yoke down around the heads of the peaceful and previously unknown people that live there.
The Azunga rescued van Brug from disease and death in the wake of a disastrous expedition sponsored by Cecil Rhodes to explore the land "between the Zambezi River and the upper reaches of the Kalahari Desert." Peaceful, living in a fabulous stone kraal akin to the ruins of Zimbabwe, the Azunga welcome van Brug with kindness and are repaid with treachery. When van Brug discovers they posses a rich seam of diamonds in a cave nearby, he returns to Johannesburg, raises an expeditionary army with the diamonds he managed to steal, and returns to enslave the people that had saved his life.