The Harp and The Blade: A Bard's Adventures in Old France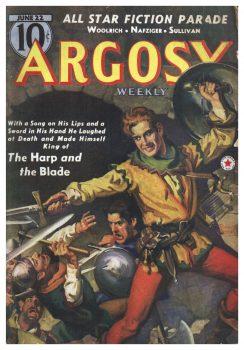 The first printing of John Meyers Meyers' The Harp and the Blade was serialized in seven parts in the pulp magazine Argosy from June through early August of 1940. Although the Rudolph Belarski painting on the cover of the June 22 issue might suggest that The Harp and the Blade is a fantasy, it is not. It is instead a straight adventure story set in medieval France.
What makes this story really interesting is its feeling of reality and the aliveness of the characters. We do not observe the story as if a Hollywood piece, at a comfortable distance from the action. Nor do we wallow in the filth, fleas, and mud. We are shown the reality of battle, the value of a laugh with friends, the necessity of a drink, and the delight of a kiss from one's wife. The characters' values are also of paramount importance, with clear demarcations made between good and bad. When there is a case of muddy morals, there is also a rationale, which may not be to our liking, but which makes sense for the characters involved.
The question is never asked — what makes life worth living? Instead, we are shown the answer in the simple things that the hero wants and that his blood-brother already has. This is a man's tale, not grandiose, but heartfelt and homey as brown bread and good ale.