Birthday Reviews: Joan D. Vinge's "Eyes of Amber"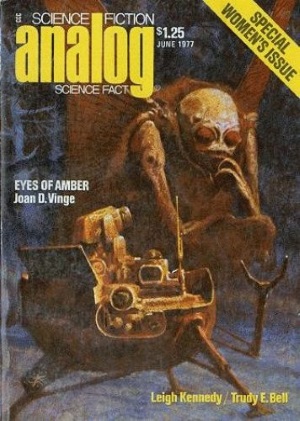 Joan D. Vinge was born on April 2, 1948.
Vinge was nominated for the John W. Campbell Award for Best New Writer in 1976. She won a Hugo Award in 1978 for her novelette "Eyes of Amber" and a second Hugo in 1981 for the novel The Snow Queen, which was also nominated for a Nebula Award, Ditmar Award, and the coveted Balrog Award. The sequel to The Snow Queen, The Summer Queen, was also nominated for the Hugo Award.
"Eyes of Amber" originally appeared in Analog Science Fiction/Science Fact's June 1977 issue, edited by Stanley Schmidt. The next year,  not only did Donald A. Wollheim and Arthur W. Saha include the story in The 1978 Annual World's Best SF, but Pamela Sargent selected it for her The New Women of Wonder anthology.  Vinge named her 1979 collection Eyes of Amber and Other Stories. In 1982, Schmidt reprinted the story in Analog Anthology #2: Readers' Choice. It appeared in The Hugo Winners: Volume 4, edited by Isaac Asimov who also included it in the anthology The Dark Void. Over the years, the story has been translated into Dutch (twice), French, German (twice), Italian (twice), Hungarian, and Polish.
The opening of "Eyes of Amber" has a distinct fantasy feel, describing an apparently feudal society in which T'uupieh has been dispossessed of her estate. Turned assassin, he is offered a chance of some level of vengeance if she will kill the current estate owner and his family, which includes her sister. As soon as Vinge sets this situation up, however, she subverts the reader's expectations by revealing that T'uupieh's society is on Saturn's moon Titan and she is being watched remotely by humans on Earth who are studying her society and language.
The primary linguist onEearth is musician turned scientist Shannon Wyler, whose attempts to make his own life away from the expectations of his scientist parents have only been partially successful. Wyler's musical background helps him in his attempts to communicate with the race through a device which T'uupieh carries and believes to be a demon who has chosen her.