Post-Modern Pulp: Speaking With Indie Action Writer Jack Badelaire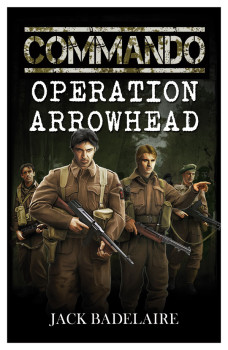 Today we're talking to Jack Badelaire, author of numerous action books in the tradition of the 70s "Men's Adventure" genre. His best known work is his Commando series of WWII action novels. Jack reflects on indie publishing and the state of the genre.
Full Disclosure: Jack is a critique partner of mine. He's also a fellow member of the secret commando group Sicko Slaughterers ("SS," we really need a new acronym), which goes after terrorists and human traffickers. So far I've killed 1,487 sickos, while wimpy little Jack has only killed 1,059. He gets props for killing that ISIS commander in Raqqa with a blender, though.
Anyway, on with the interview.
The Men's Adventure fiction of the 60s and 70s is obviously a huge influence on your work. You've mentioned that you think there's a lot more going on in these books than many people think. Could you expand on that?
This genre of fiction was brewed up during an especially turbulent period of history. The Cold War, Vietnam, rejuvenated organized crime syndicates, the rise of international terrorist organizations, the War on Drugs… and those are just the chart-toppers.  These post-modern pulps of the period were a direct reflection of, if we want to get Freudian for a moment, society's collective Id. The Executioner went out and slaughtered Mafiosi because we wished someone would, and Phoenix Force obliterated terrorists because we wished someone would. Even today, the modern successors to these stories feature ex-SEALs and former Delta Force operators hunting terrorists and organized crime syndicates, stories little different than those written thirty or forty years ago.