Voices in Fantasy Literature, Part III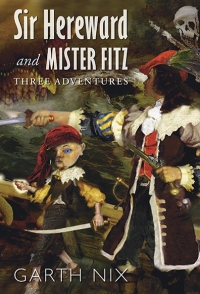 This is the third installment in a series of posts highlighting fantasy short fiction (here are Part I and Part II).
Over the course of the last eight years, I've read or listened to a lot of short fiction and the variety out there is astonishing. And I love to try to introduce new readers to some of the stuff that impressed me. This week, the three stories I picked were by Garth Nix, Nancy Hightower, and Daniel Abraham.
"Hereward and Mr Fitz Go To War Again," by Garth Nix, appeared originally in Jim Baen's Universe,  then in Podcastle (where I heard it), and then in a collection by Subterranean Press (ebook available here). This is one of three Sir Hereward and Mister Fitz stories I heard and I absolutely fell in love with the weird swashbuckling world Nix created.
Hereward is a knight, artillerist, and swordsman, as able with gunpowder as with the blade. Fitz is an animated wooden puppet and dangerous sorcerer, whose sorcery is structured around sewing and knitting, with his accouterments being needles, thread, and sometimes a portable sewing desk. Their job is to enforce a treaty against rogue gods that is so old that some of the nations to the treaty no longer exist.
This is pure buddy picture story, a grand adventures against old gods. Loads of fun and the Sir Hereward and Mister Fitz stories are now available as an ebook, so no reason not to check it out.