Kickstarter Alert: Guard Up! Youth LARP Program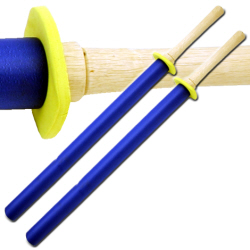 Last Sunday, I took my two sons to our local park. While my 2-year-old played on the standard playground equipment, my 7-year-old was transfixed by a group of older teens gathered around picnic tables at a nearby grassy area of the park. Armed with a variety of foam-based weapons, these teens were huddled into groups and occasionally broke out in battle.
Being my son, he was no stranger to these foam weapons. He'd made his own at GenCon about three years ago and pretty much every time we go into the local gaming/comic shop, he makes a beeline for them. His latest fixation is on a well-constructed foam mace.
But this group of boys (for they were almost all boys) weren't just hitting each other. No, they were doing something else. They were talking to each other. They were playing a game. They were telling a story. That, I think, fascinated him as much as the foam weapons.
And that, ultimately, is the bigger point of playing in a live action roleplaying (LARP) game. A recent Kickstarter project highlights this very well. The Massachusetts-based youth LARP program Guard Up! has 4 days left to gather the remaining funds to create a licensing program which will allow people to buy licenses on their story-based educational program. As of this moment, they need about $2,000 more, but also have some good stretch goals if they can beat that funding.