Birthday Reviews: Gary Couzens's "Half-Life"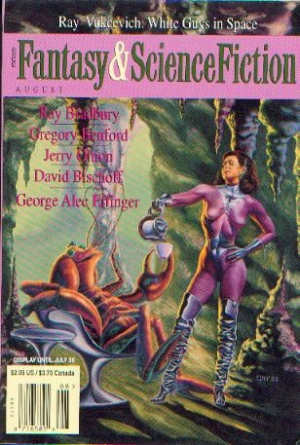 Gary Couzens was born on October 4, 1964.
His fiction has been collected into two volumes and he has edited four anthologies, one of which, Extended Play: The Elastic Book of Music won the 2007 British Fantasy Award. He co-edited Deep Ten with Sara Jayne Townsend and co-edited Mind Seed with David Gullen. In 2017, five of his editorials for the magazine Black Static were also nominated for the British Fantasy Award. He has collaborated with D.F. Lewis, Miriam Robertson, and Martin Owton on various short stories.
"Half-Life" was first published in the August 1996 issue of The Magazine of Fantasy and Science Fiction, edited by Kristine Kathryn Rusch. Couzens included the story in his first collection of short stories, Second Contact and Other Stories, in 2003.
Gary Couzens made the decision to write "Half-Life" in the second person, which is not a common choice, but in this case manages to given an immediacy to the story that would otherwise have been lacking. His unnamed protagonist ("you") has died and his spirit is hanging around the house, spying on his wife as she moves through the days following his death, and witnessing his daughter and son come home for the funeral.
While the second person POV pulls the reader into the story, the fact of death separates the reader from the action. The death causes a dissociative sense regarding what is happening as "you" learn how you were viewed by your daughter, who couldn't reveal that she was a lesbian to you, although she told your wife five years earlier and has brought her lover for the funeral. You also realize that you won't see the child your son and his wife are pregnant with.
You and the reader are both left up in the air as to any purpose you have for sticking around in your old house, but it is clear that you are locked to the location, with your strongest presence in the hallway where you died. When your wife leaves the house, you realize that you aren't tied to her and will continue to exist in your half-state for an indeterminate period of time, but will eventually disappear.