Birthday Reviews: Isaac Asimov's "Buy Jupiter"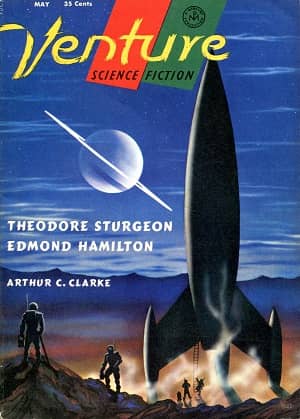 Most days in 2018, I'll be selecting an author whose birthday is celebrated on that date and reviewing a speculative fiction story written by that author. Continuing the series, let's wish a happy 98th birthday to a Grand Master of the field, Isaac Asimov.
Isaac Asimov was born on January 2, 1920 in Petrovichi, Russia and died on April 6, 1992. His received a special Hugo Award in 1963 for his science articles in The Magazine of Fantasy and Science Fiction. In 1966, he won the Hugo for Best All-Time Series for the Foundation series. He later won the Nebula Award for novel The Gods Themselves and the novelette "The Bicentennial Man," which also won a Hugo. He received additional Hugos for the novel Foundation's Edge, his novelette "Gold," and his posthumous memoir I. Asimov. In 1987, he was named a Grand Master by the Science Fiction Writers of America. In 1997, he was inducted into the Science Fiction Hall of Fame.
While the Foundation series is known for its lack of aliens, Asimov did write about aliens in other novels and short stories, including "Buy Jupiter." "Buy Jupiter" was originally published in Venture Science Fiction Magazine in May, 1958, edited by Robert P. Mills. It has been reprinted several times, including as the title story of Asimov's 1975 collection Buy Jupiter and Other Stories. While Asimov was known for shaggy dog stories, and the title "Buy Jupiter" would imply exactly that, in this case the the punning title doesn't carry over into the tale itself, although it is descriptive.
Although Asimov's famous Foundation series does not include aliens (with the exception of the story "Blind Alley"), in "Buy Jupiter," he focuses on negotiations between a representative of Earth and the alien Mizzarett, with a second alien race, the Lamberj, mentioned by name and other alien races implied. The Mizzarett are negotiating with the humans over the purchase of Jupiter, explaining that they could take it by force, but they would prefer to negotiate a fair deal. The human negotiator is concerned that selling or leasing the planet to the Mizzarett will either stymie human plans for expansion to the Jovian moons or be seen by the Lamberj as taking sides in a potential war between the alien races, a war which the Mizzarett ambassador swears doesn't exist.
The Mizzarett eventually convinces the human Secretary of Science of its race's intentions, but the explanation occurs off stage, only to be revealed when the Secretary of Science presents the explanation to the President. The explanation is simple, and allows the humans to come out ahead in the negotiation, although it does raise the question of the Mizzarett's truthfulness and the naïveté of the humans who believed the aliens and agreed to their conditions.