Fiction Review: A Vision of Light and In Pursuit of the Green Lion by Judith Merkle Riley
Fiction Review: A Vision of Light and In Pursuit of the Green Lion by Judith Merkle Riley
by Amy Harlib
Copyright 2007 by New Epoch Press. All rights reserved.
A Vision of Light
By Judith Merkle Riley
Three Rivers Press (448 pages, May 2006, $13.95)

In Pursuit of the Green Lion
By Judith Merkle Riley
Three Rivers Press (464 pages, October 2006, $13.95)
Recently, two polished and entertaining historical fantasies have become available again, having been absent from bookstore shelves since 1990.
A Vision of Light, the first of the pair, is also the first novel by an American writer whose métier is historical fiction with strong fantasy elements set in late Medieval or early Renaissance England and France. Altogether, Judith Merkle Riley, a college professor, has written five such books. Her stories all feature spunky, smart heroines who survive and achieve lives of fulfillment and a measure of happiness despite the horrendous oppression of the patriarchal societies (very realistically and accurately portrayed based on the author's extensive research) in which they live. Riley's prose skillfully evokes the atmosphere and flavor of the time period without resorting to self-conscious archaisms and preciousness. She is equally adept at unpredictable plotting and believable characters, whether protagonists or antagonists. Supernatural and fantastic elements entirely suited to the beliefs of her narrative's historical era are incorporated into the text as genuinely real manifestations of the uncanny and not explained or rationalized away.
Despite being a first effort, A Vision of Light displays the highly polished prose, rich detail, engrossing plot, and engaging characters that made Riley's more recent books receive glowingly positive reviews. The setting is fourteenth-century England where the heroine, Margaret of Ashbury, though very much of her time, at times resembles a contemporary woman in spirit and thoughts.
Young, wealthy, twice-married, Margaret wishes to write a book — a modest enough ambition — but in 1355, the idea of a woman wanting to record her experiences and thoughts is not just unseemly, it's possibly heretical. After several clerics contemptuously refuse to be Margaret's scribe, the starving Brother Gregory, a wandering Carthusian friar with a mysterious past, agrees to take on the questionable job. There follows the first-person narrative of Margaret's life story as recorded by Brother Gregory, (who eventually teaches his employer to read).
This text gets punctuated at intervals by omniscient observer segments that depict what is happening to Margaret in her immediate present, until the events of the autobiography and the third-person intervals coalesce in the penultimate chapter. The dynamic and exciting climax, in the final chapter, (in which Brother Gregory assumes unexpected importance), is again told by the omniscient observer. This fascinating authorial technique reveals a character who is a woman of rare resourcefulness who has survived the Black Plague, invented the forceps, (while practicing midwifery and herbalism), and been accused but acquitted of witchcraft.
The fantasy aspect of the story is Margaret's experience of a Mystic Union — a vision of light that illuminates her soul and endows her with a miraculous gift of healing and more. Even when the power is dormant, her charisma is such that to every person she encounters in her full life, she becomes special — to her traditional parents; to the band of traveling players who adopt her; to the bishop's court that tries her for heresy; and ultimately to the rich merchant Roger Kendall who saves her.
Riley's excellent wordsmithing creates a heroine who, despite her uncanny ability to heal, see auras, perceive ghostly spirits and even hear the guiding voice of a higher power — remains unassuming, matter-of-fact, and utterly lovable, thus offering a compelling focal point to illuminate fourteenth-century England in colorful detail, with an emphasis on women's surprisingly diverse lives not usually found in standard historical textbooks. Margaret's voice and the events of her life, and the depiction of her world in A Vision of Light is so entertaining, thoughtful, exciting and absorbing, (even when some attitudes prevalent in that era are appalling to today's readers), it is a great gift to readers that after more than a decade in obscurity this excellent historical fantasy can now be easily found in a nicely packaged, reasonably priced, trade paperback edition.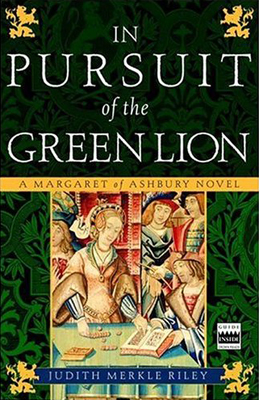 In Pursuit of the Green Lion, direct sequel to A Vision of Light, picks up where it left off. The year is 1358 and Margaret of Ashbury, (having been taught to read and write), continues to record (on her own) the events of her life in a sort of diary-as-chronicle. These first-person accounts, as in the prequel, are interspersed with omniscient observer passages that offer the reader a wider perspective on events as they happen.
The story opens with Margaret, newly widowed and an heiress, kidnapped and forced to wed none other than her literacy tutor, the unfrocked monk, Brother Gregory who, it turns out, is the prodigal younger son of the piratical, fortune-hunting de Viliers family. Gregory, nearly as reluctant as Margaret to get married, is coerced by intense family pressure and resumes his former name of Gilbert de Viliers with the acquisition of his bride and new wealth. Margaret, still mourning her first husband, struggles for the sake of the two daughters she bore him, to make a home among the violent, argumentative de Viliers family in their decaying manor in Hertfordshire. Margaret's gifts of healing and second sight serve her well and earn her a measure of respect tinged with some envy from her otherwise exceedingly sexist male in-laws. She even manages to befriend the previously spiteful and scary ghost of her mother-in-law, and is comforted by the shade of her husband, who has followed her to her new home.
Gradually Margaret and Gilbert learn to love each other so deeply that when Gilbert is drawn by his family into campaigning in France during the Hundred Years War only to be lost without a ransom demand or a death notice, Margaret realizes she must have him back no matter the cost. To aid her in her quest to go to France to hunt for her lost love, Margaret enlists her old friend and mentor, the herbalist/midwife Mother Hilda. She in turn recruits her lover, Brother Malachi, the most notorious alchemist in England. This adventure is welcomed by Brother Malachi as a chance to search for the Green Lion, the secret of transmutation contained in an untranslatable book of alchemical code. Also eager to go along is the ghost of Margaret's mother-in-law, braving the ordinarily ectoplasmically impossible feat of crossing open water in her passion to help find her son!
As the protagonists journey through France, the reader, along with them, discovers the complexity, wonders, and hardships of pilgrimage in a foreign land in Medieval times as portrayed with vivid description, intense emotion, wit, and excitement. Events rife with irony and suspense test the mettle of the intrepid band, building up to a dramatic climax in the dark castle of the Count d'Aigremont in the Pyrenees where Gilbert is being held. This formidable antagonist sponsors alchemists who practice forbidden rites that conjure up demons with human blood sacrifices. The plot continues to offer surprises right up until the thoroughly satisfying ending.
In Pursuit of the Green Lion once again portrays an unusual woman leading a remarkable and utterly fascinating life in fourteenth-century Europe. And to the joy of fantasy fans everywhere, at long last, after a hiatus of sixteen long years, a third Margaret of Ashbury novel, The Water Devil, was printed in a matching trade paperback format earlier this year.
---
New York's Amy Harlib has loved fantastic literature her entire life, a pursuit which ties into other diverse passions, including fantasy films, mythology, folklore, and cats. You can read more of her reviews at Strange Horizons, and some of her interviews with writers at The Zone.