Goth Chick News: Kicking Off Spooky Season with a Ghost Story
Goth Chick News: Kicking Off Spooky Season with a Ghost Story

Ghost Story (Pocket Books paperback reprint, September 1, 1989)
When fall finally starts descending on Chicagoland there are a few rituals which are essential to getting me in the mood for Spooky Season. Granted, this time of year isn't dramatically different from the rest of the year around here, considering. But there are certain things that ramp up the countdown to October 31st.
For example, a more than average quantity of gothic elements appears in the décor, the sweatshirts come out, and the scent of pumpkin candles permeates every room along with the music of Midnight Syndicate. September also finds me revisiting quite a few literary favorites as nothing sets the fall tone better than a good ghost story, and in this case, I mean that literally. Ghost Story by Peter Straub remains to this day, the only novel that scares the snot out of me every time I read it.

Ghost Story (Pocket Books, April 1980)
Though Ghost Story was Straub's fifth novel, published in 1979, I didn't discover him until I was in college. By the late 80's I was already a jaded aficionado of the genre, having sat in darkened theaters through what many consider the greatest decade of horror movies. I was also a frequent visitor to pop-up book sellers which used to appear in unused retail spaces, much like Spirit Halloween stores do today. There a poor college student could binge on $1 paperbacks and $5 hardcovers, not to mention equally inexpensive cassette tape audio books. There was nothing finer than to scrape together a few bucks for scary stories to add to my collection.
I was home on Christmas break when I found the Ghost Story paperback in one of those pop-up stores which had opened in a nearby town for the holidays, and this is significant for two reasons. First, the room I occupied in my parents' house when I was at home was in the basement. Not the airy, light-filled, walk-out living spaces you see on HGTV when someone says "finished basement." Nope. For whatever reason, while the washer and dryer sat beneath one of four small ground level windows, my room had been built entirely on the interior, meaning it was dark and had a low ceiling. To get upstairs I had to walk through the unfinished part of the basement, meaning I was essentially a final girl every time I had to ascend to use the bathroom. Second, several of the most terrifying scenes in Ghost Story happen in a small town in the winter.
Arriving home with my first Straub novel in the afternoon, I descended to my basement abode to curl up beside the blasting space heater (did I mention the room did not have separate heating vents?). Breaking only for necessities, I remember devouring all 528 pages of Ghost Story in one sitting, turning the last page in the wee hours after midnight. In one of my short visits upstairs I found the sun had gone down and the empty house was quiet. The moon was high, turning the 3-acre wooded backyard into a riot of black shadows against the snow. Having just come from a similar scene in the novel, I remember standing in the darkened kitchen looking out over the yard and feeling the thrill of pure terror, before bolting back down the stairs and slamming the door shut behind me.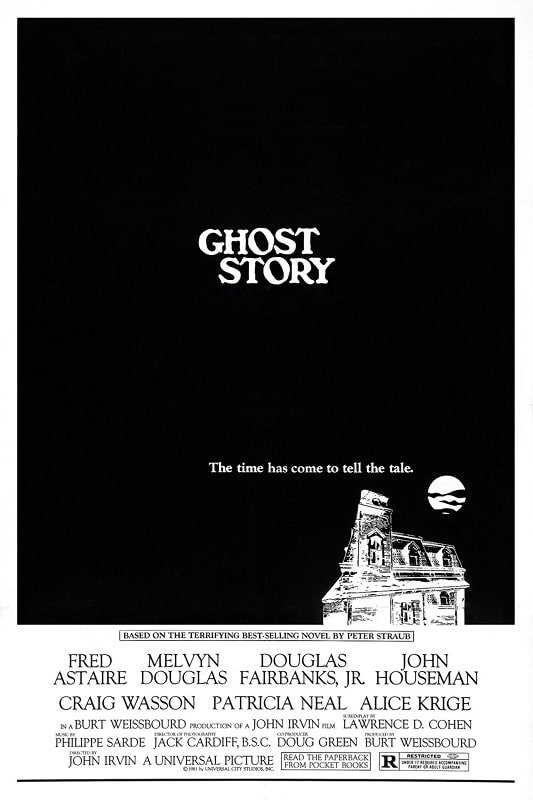 Ghost Story (Universal Pictures, 1981)
The addiction to that feeling and the incredible story-telling that inspired it is what brings me back to Ghost Story every year. Though it's fairly easy to make a "dark and stormy night" scary, only Straub could take everyday places which seem to epitomize normal and safe, and turn them into the stuff of nightmares. Though I know the tale by heart, I still carefully plan where and when I'm going to read Ghost Story each year, to assure I am in a well-lit and occupied space. Here is how Amazon describes the story:
What was the worst thing you've ever done?

In the sleepy town of Milburn, New York, four old men gather to tell each other stories — some true, some made-up, all of them frightening. A simple pastime to divert themselves from their quiet lives.

But one story is coming back to haunt them and their small town. A tale of something they did long ago. A wicked mistake. A horrifying accident. And they are about to learn that no one can bury the past forever…
If you haven't read the novel, I strongly urge you not to cut corners and watch the movie version of Ghost Story (1981). That same Christmas break saw me bolting for the local Blockbuster to rent a VHS copy of the movie, thinking at least some of the thrills would translate. In another vivid memory, I recall this being one of my early devastating disappointments in a film interpretation of a book. Though Straub wrote the screenplay, there was simply no way to do justice to 528 pages in 1 hour and 50 minutes of film.
Last week was the first anniversary of Straub's death on September 4, 2022, at age 79 from complications of hip surgery. Unlike Stephen King, with whom Straub co-authored two novels, only three of Straub's works ever got film interpretations. In addition to Ghost Story, Julia (under the name Full Circle) and The Talisman were both turned into scripts. In fact, a new mini-series based on The Talisman is in development now, for Netflix.
Though I can't say I loved everything Straub wrote, he was a rare talent with the ability to create vivid mind pictures with his word choice, and to weave scares out of everyday things. In honor of his passing last year, I bought a hardcover version of Ghost Story, having dog-eared half a dozen paperback copies. I just can't bring myself to read an e-version, as turning the pages is part of the experience.
I am looking forward to further breaking the binding of that hardcover this weekend – with all the lamps on of course.