New Treasures: A Book of Blades Vol. II from the Rogues in the House Podcast
New Treasures: A Book of Blades Vol. II from the Rogues in the House Podcast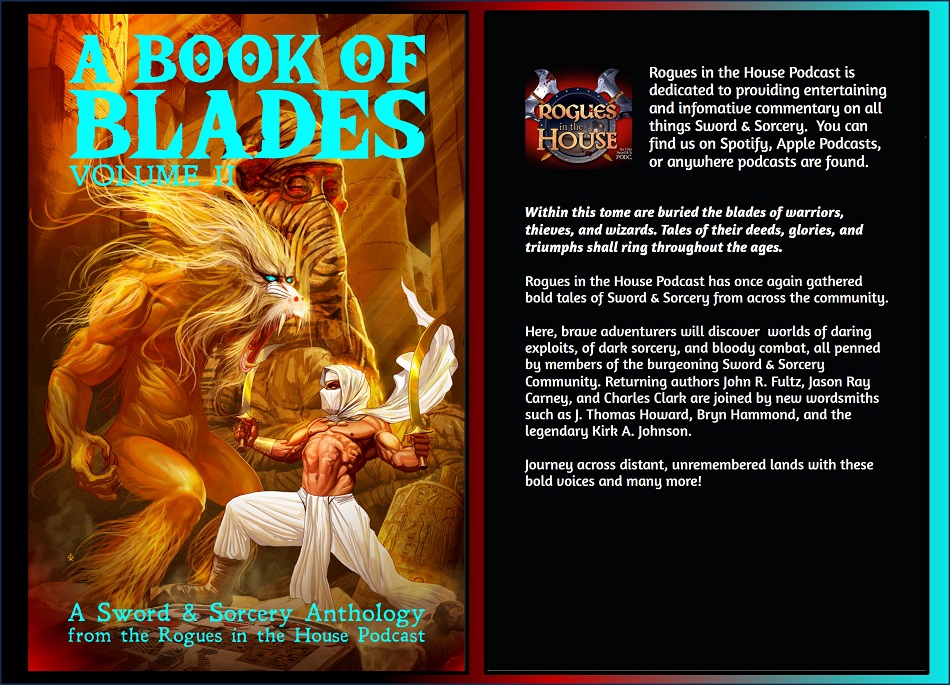 In January 2022, Black Gate spotlighted Rogues in the House Sword & Sorcery podcast covering the folks/rogues behind the show and highlighted episodes (Go Rogues! link). In that post, we shared their podcast guest list that included S&S authors like Howard Andrew Jones, Scott Oden, John R. Fultz, and Jason Ray Carney, and even Morgan King & Phil Gelatt (creators of the movie The Spine of Night), Peter D. Adkison (founder and first CEO of Wizards of the Coast and owner of GenCon, the world's largest board game convention), and Sara Frazetta (granddaughter of the fantasy master painter, an artist herself, and CEO of Frazetta Girls).
In July 2022, they released A Book of Blades Volume I, with 15 stories by as many Sword & Sorcery authors as featured on Black Gate.
And now, this July 2023, Rogues in the House Podcast brings us A Book of Blades Volume II!  Order now (link).

This sequel offers 14 contemporary stories (see Table of Contents below). Rogue Logan D. Whitney pens the opening acknowledgments with callouts to cover artist Jesus Garcia (who also illustrated Vo I.) and Interior illustrator Gilead Artist; kudos to Nathaniel Webb for formatting; and a tease for offering an audiobook with narration from Ember Lin (who narrated A Book of Blades Volume I) which appears to be slated for Volume 2.
A Book of Blades Vol. II Cover Blurb
Within this tome are buried the blades of warriors, thieves, and wizards. Tales of their deeds, glories, and triumphs shall ring throughout the ages.

Rogues in the House Podcast has once again gathered the best tales of Sword & Sorcery from across the community.

Here, brave adventurers will discover tales of daring and adventure, of dark sorcery and bloody combat, all penned by members of the burgeoning Sword & Sorcery Community. Returning authors John R. Fultz, Jason Ray Carney, and Charles Clark are joined by new additions like J. Thomas Howard, Bryn Hammond, and the legendary Kirk A. Johnson. Journey across distant, unremembered lands with these bold voices and many more!
Contents & Authors
The White Tower by Charles Clark

The Wolves of Winter Road by T.A. Markitan

Breaching Earth's Womb by S.E. Lindberg

Beasts of Waste & Desolation by Scott Oden

Goat Against the City God by Bryn Hammond

The Toe of Pergendu by Jason Ray Carney

Ceremony by Z.S. Reynolds

Cries for a Sleeping City by Matthew John

Something Oath-like by Oliver Brackenbury

The Geomancer's Son by J. Thomas Howard

What the Desert Blows In by J.M Clarke

The Oculus of Kii by Kirk A. Johnson

Return of the Quill by John R. Fultz

The Horror from the Stars by Steve Dilks

Go Rogue!
Join the critically acclaimed podcast focusing on Sword and Sorcery & Heroic Fantasy.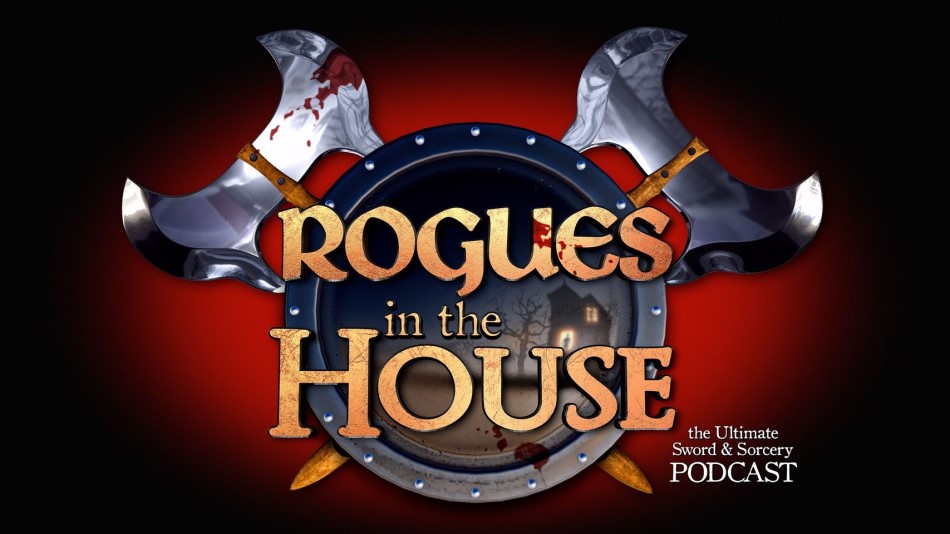 ---