Rogues in the House Podcast releases A Book of Blades Sword & Sorcery Anthology
Rogues in the House Podcast releases A Book of Blades Sword & Sorcery Anthology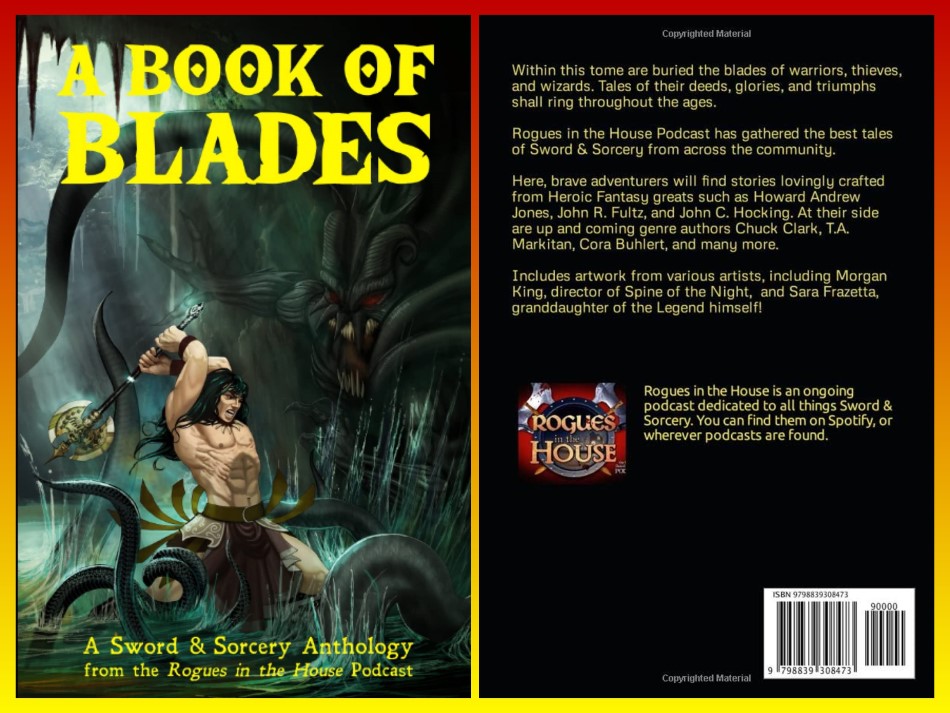 This January Black Gate teased a second publication from the Rogues in the House Sword & Sorcery podcast while we covered the folks/rogues behind the show and highlighted episodes (Go Rogues! link). Beyond luring in S&S authors like Howard Andrew Jones, Scott Oden, John R. Fultz, and Jason Ray Carney, they've covered Morgan King & Phil Gelatt (creators of the movie The Spine of Night), Peter D. Adkison (founder and first CEO of Wizards of the Coast and owner of GenCon, the world's largest board game convention), and Sara Frazetta (granddaughter of the fantasy master painter, an artist herself, and CEO of Frazetta Girls).
Now the anthology has been released into the wild. A Book of Blades hosts 15 short stories from established and emerging heroic authors! Check out the table of contents below. There are even illustrations from the aforementioned Morgan Galen King & Sara Frazetta, amongst other artists. All proceeds go toward making the show a stronger and more attractive platform for all. The anthology is available now in Paperback and Kindle.

A Book of Blades Cover Blurb:
Within this tome are buried the blades of warriors, thieves, and wizards. Tales of their deeds, glories, and triumphs shall ring throughout the ages.

Rogues in the House Podcast has gathered the best tales of Sword & Sorcery from across the community.

Here, brave adventurers will find stories lovingly crafted from Heroic Fantasy greats such as Howard Andrew Jones, John R. Fultz, and John C. Hocking. At their side are up and coming genre authors Chuck Clark, T.A. Markitan, Cora Buhlert, and many more.

Includes artwork from various artists, including Morgan King, director of Spine of the Night, and Sara Frazetta, granddaughter of the Legend himself!
Table of Contents:
"By the Sword" by John C. Hocking
"Ghost Song" by Chuck Clark
"Last of the Swamp Tribe" by L.D. Whitney
"Wanna Bet?" by T.A. Markitan
"The Serpent's Heart" by Howard Andrew Jones
"How They Fall" by Angeline B. Adams and Remco van Straten
"The Breath of Death" by Jason M. Waltz
"Embracing Ember" by S.E. Lindberg
"The Curse of Wine" by J.M. Clarke
"The Gift of Gallah" by Matthew John
"Crawl" by Scott Oden
"The Spine of Virens Imber" by Nathaniel Webb
"The City of the Screaming Pillars" by Cora Buhlert
"Two Silvers for a Song of Blood" by Jason Ray Carney
"The Blood of Old Shard" by John R. Fultz
Illustrations
Gilead
Ursa Doom
Sara Frazetta
Lorelei Esther
Hardeep Aujla
Morgan Galen King
Jesus Garcia (front cover)
Go Rogue!
Join the critically acclaimed podcast focusing on Sword and Sorcery & Heroic Fantasy.
---
S.E. Lindberg is a Managing Editor at Black Gate, regularly reviewing books and interviewing authors on the topic of "Beauty & Art in Weird-Fantasy Fiction." He is also the lead moderator of the Goodreads Sword & Sorcery Group and an intern for Tales from the Magician's Skull magazine. As for crafting stories, he has contributed five entries across Perseid Press's Heroes in Hell and Heroika series and has an entry in Weirdbook Annual #3: Zombies and DMR Book's Terra Incognita.  He independently publishes novels under the banner Dyscrasia Fiction; short stories of Dyscrasia Fiction have appeared in Whetstone and Swords & Sorcery online magazines.