The Legacy of a Legendary Collector: Denny Lien, September 26, 1945 – April 15, 2023
The Legacy of a Legendary Collector: Denny Lien, September 26, 1945 – April 15, 2023

A handful of items from Denny Lien's incredible collection I was able to save from the dumpster
On Wednesday May 3, I drove 379 miles from St. Charles to Minneapolis, to help clean out the last of the legendary collection of the late Denny Lien. I'd been reliably informed that it was the final week his estate would have access to the house; the following Monday, Habitat for Humanity would take possession, and everything left would go in the dumpster.
Denny had the most incredible collection of magazines I've ever seen. During the scant few hours I had in the house I found virtually complete runs of Amazing Stories, The Magazine of Fantasy and Science Fiction, Worlds of If, Galaxy, Fantastic, Astounding/Analog, Asimov's Science Fiction, Locus, Cemetery Dance, and many, many more — far more than I could ever pack and fit in the minivan I'd rented for the trip. Most were unread, in pristine condition.
[Click the images to collect bigger versions.]

Denny's house in Minneapolis, and some of the games I found in my last few moments inside
I know a great many collectors, some of whom have dedicated much of their lives to gathering and preserving books, pulps, magazines, and art. I've been blessed to have toured many of those amazing private collections over the years.
But I've never seen anything like Denny Lien's. It was the product of a singularly focused mind with a lifelong love of science fiction and fantasy. His friend Greg Ketter, owner of DreamHaven Books, told me, "If a book or magazine had fantastical content, Denny had to have it."
As Denny's friend Curt Philips so poetically put it:
Denny *built* his collection with passion and dedication, and it was quite important to him. To a collector, their collection is a living thing that one feeds and nourishes over time. We add to our collections as we grow and learn about our subjects, and the collection itself teaches us things and opens up new areas of knowledge for us to explore. Our collection reflects who we are; describes our journey through life; and — to those who understand what a collector and his collection truly are — it stands as a monument.

Denny's monument was one for the ages.
I consider myself very fortunate that I was able to glimpse just how monumental it was first hand.

A few issues from Denny's complete run of The Magazine of Fantasy & Science Fiction
and a surprise find in a dusty box — rare TSR and Metagaming minigames
I never met Denny Lien in person. We were both members of Fictionmags, an online discussion group for collectors of science fiction magazines, for many years, and in that time I grew to appreciate both his encyclopedic knowledge, and his generous and friendly personality.
Denny was a reference librarian in Minneapolis. In 1984, he married fellow fan Terry A. Garey, whom he spent several years taking tender care of as her health deteriorated. By early 2023, Terry was in permanent memory care, and Denny was living alone, with his two cats.
There will be a Celebration of Life memorial for Denny next Friday, June 2, 5–8 pm at the Como Park Streetcar Station, 1224 North Lexington Parkway in Minneapolis. There's more information at the Kudoboard set up for Denny.
The story of Denny's life and death, and the incredible effort to save the monumental collection he built over a lifetime, includes no small number of heroes. A few of them deserve to be called out here.

Michael Ward's first Facebook post about Denny, from February 9th
The first is Michael Ward, a Californian fan and collector. Denny had kidney cancer, and in January of this year he was also diagnosed with acute myeloid leukemia. When he learned of the illness that would likely kill him, he asked Michael to find a home for as much of his SF/F collection as possible in the time he had left.
Michael worked tirelessly over the next few months to do exactly that. Before I die, I fervently hope I have someone like Michael to turn to, to help find a place for my (much more modest!) collection. Mike's wife Karen Schaffer helped Denny and Terry get through Denny's hospitalization, and helped set up Terry's care facilities. She arranged for Terry's book, fabric, and other collections to be preserved, while Mike was working on Denny's. She organized the memorial celebration on June 2.
Michael visited Denny in February to get a start on the process of cataloging his massive collection — and promptly caught COVID. He heroically persevered over the coming months, eventually connecting with several institutions, including the University of Iowa, to place Denny's priceless collection of rare pulp magazines and other high-value items. His most valuable connection was almost certainly Pete Balestrieri at the University of Iowa, whose program in popular culture accepted and will take care of the pulp, specialty press, and UK digests, and who helped Mike find other university connections.
In addition, Minneapolis fandom has been preserving Denny's fanzine collection, and the poetry books and writings of Denny's wife Terry, who is still alive, but in long-term memory care.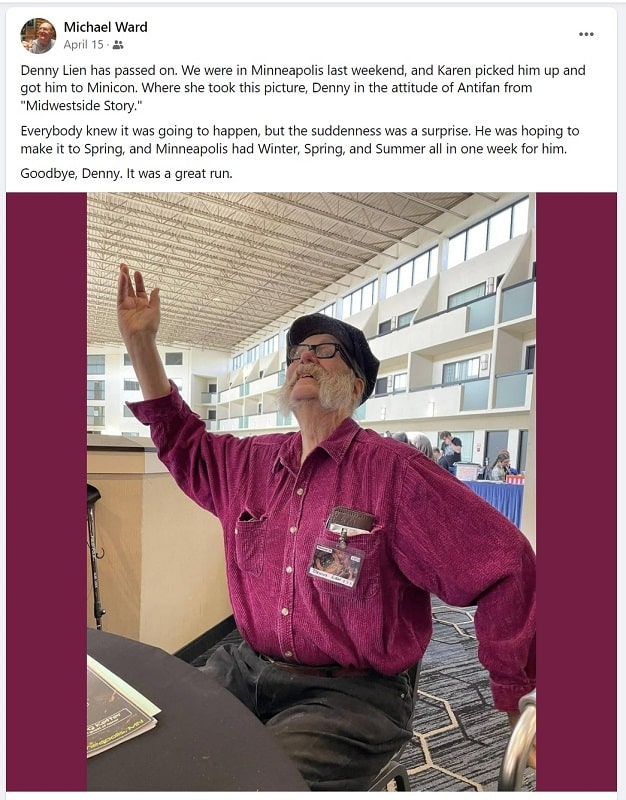 Michael's April 15th post announcing Denny's death
On April 15th, Denny finally succumbed to his illness. It was long expected, but a fall at the end accelerated things more quickly than anyone anticipated.
While much had already been accomplished fulfilling Denny's wishes for his cherished collection, there were still tens of thousands of books and magazines to find homes for. And here Mike ran into a problem.
Denny and his wife Terry lived in a large three-story house in Minneapolis, and every corner was crammed with books. Even the stairs — to move between floors you had to squeeze around stacks of books. There were simply too many for a local library or university to accept as a donation. And even if they did, it would take a herculean effort to pack and move them all.
Enter our second hero.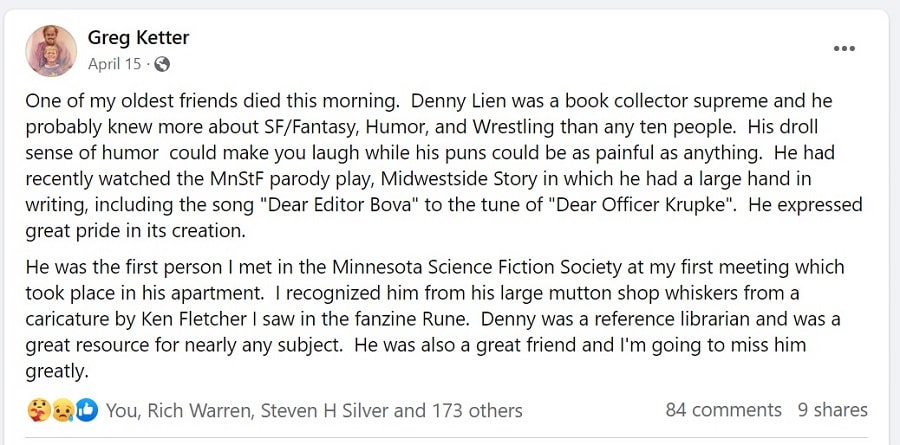 Greg Ketter's April 15th Facebook post on Denny's death
The person most directly responsible for saving most of Denny's collection was the amazing Greg Ketter, a lifelong friend of Denny's who took on the backbreaking task of cataloging, packing, moving and storing tens of thousands of hardcovers and paperbacks, and transporting many of them to their permanent home at the University of Iowa, and other places. Greg told me that he took over 700 boxes of books out of Denny's house, and gave me a cramped tour of the storage unit he was forced to rent next to his Minneapolis bookstore to make room for them all.
But time was running out for the rest of the collection, and there were still thousands of magazines to contend with. Denny had made arrangements to donate his house to Habitat for Humanity, and the date for them to take possession was fast approaching.
Despite having already placed the bulk of the collection, and virtually all of the high-value material, Mike did not consider his work done.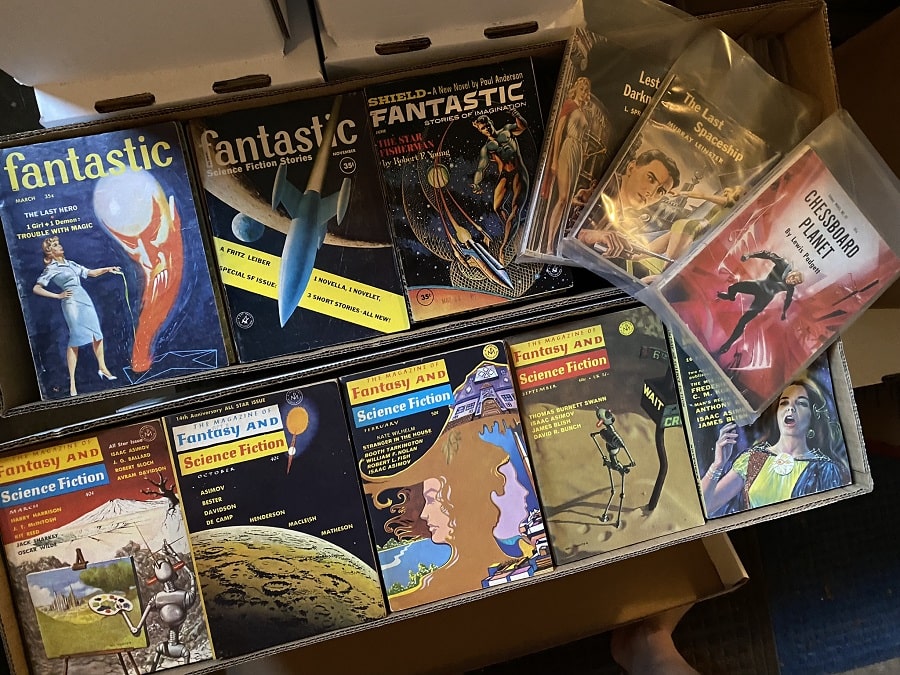 Two of the 21 boxes of science fiction magazines I brought home 
Mike continued to work his network, and on Thursday April 27 he reached out to Rich Horton, writing in an email:
My note to you on Facebook was based entirely on the discovery that you are actively collecting SF digests… Denny Lien asked me to find places for as much of his SF/F collection as possible. Emphasis was on universities or other institutions…

No one seems to want the long/complete runs of digest GALAXY, F&SF etc. That's true even for Greg Ketter at Dreamhaven, who is selling the books that aren't going to U's.

Would you be interested in these? Basically no immediate cost to you except for pickup in Mpls, or packing and shipping, but Denny asked for long-term cash donations to a list of charities… I'm simply trying to keep them out of the dumpster.
Rich was unable to make the trip to Minneapolis, but he did loop me in to the conversation.
I didn't know Denny personally, but just the thought that his collection of magazines might end up in a dumpster gave me hives. A quick look at Google maps told me that I could make it to Minneapolis in just under six hours. I could make a return trip in a single day. A single very long day… but still.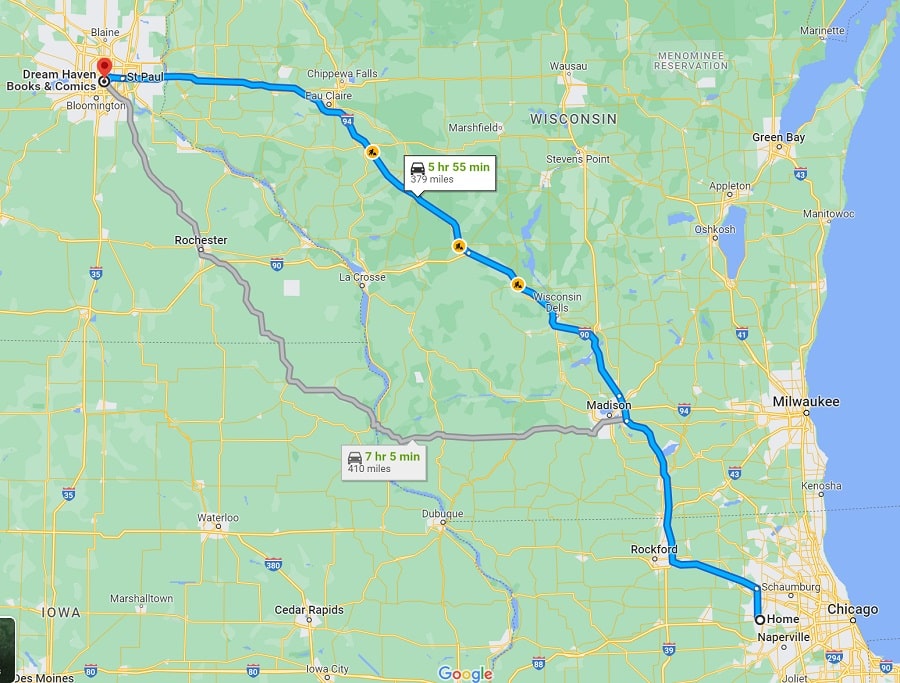 I could make it to Minneapolis in just under six hours. If I didn't stop to pee.
It didn't make sense to make the trip unless I had a car that could fit Denny's magazines… and I don't. A quick call to Enterprise Rent-A-Car, and I booked a minivan for $92.48/day. The desk clerk was kind enough to show me how to fold down all the rear seats, and suddenly I had a spacious roadster at my disposal, with decent leg room and more storage space than my first apartment. I was road trip ready.
I told Mike Ward I would make the trip. Mike, whom I have never met in person, was grateful and enormously gracious, sending me an email saying, "That's great! But… it needs to be done fast… Can you pack and pick up 20 or 40 boxes in Mpls?"
I could. Would 40 boxes be enough?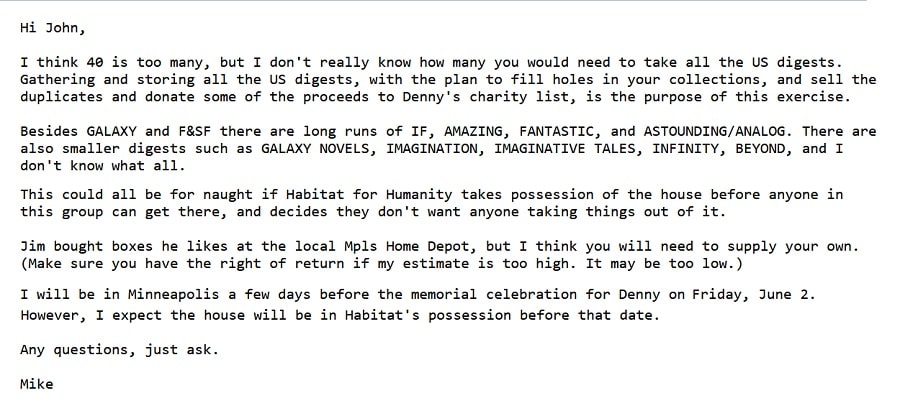 Mike's email to me before my trip to Minneapolis
On Wednesday, May 3, shortly after 8:30 am, I picked up the rental car, and by 9 am I was on the road to Minneapolis.
The weather was perfect. I listened to John Scalzi's Old Man's War on the way, using the Audible app on my phone. I called my Dad. I stopped to get gas and road food. And I arrived more or less right on time at 3:30 p.m. in Minneapolis, where I met Greg and his wife Lisa — and got to see their amazing bookstore DreamHaven Books for the first time. I wrote that experience up here at Black Gate two days later.
Greg and Lisa brought me to Denny's house, and gave me the tour. They showed me the room where Denny had built a maze of custom bookshelves to house his collection of digest magazines, and gave me the key to the house. By then it was well after four. I promised Greg I'd have the key back to the store before 8 pm and, with no further ceremony, went to work packing magazines.

The narrow custom shelves Denny built to house his digest collection (left)
left little room to maneuver. The shelves at right in that picture contained
complete runs of F&SF and the digest versions of Amazing (see pic at right).
During the tour, Greg showed me rooms still crammed full of books, comics, games, filing cabinets, unopened boxes, and much more — all that remained after he and his team had removed some 700 boxes. Everything left was bound for the dumpster, and Greg invited me to save whatever I could. The basement was filled to the brim (literally) with hardcovers, and there were more boxes than I could count in the attic.
It was a week-long project just to explore the house in its entirety. I had just a little more than three hours. And in that time, I had to pack several thousand digests.
It was an impossible task, and in those frenetic hours I learned to appreciate what Greg had already accomplished. By 7:30 pm, with just 20 boxes packed and carted out to the minivan, I was completely exhausted. I have no idea how Greg managed to save as much as he did, but the entire SF community owes that man a debt of gratitude for his tireless efforts to preserve as much as he could of Denny's legacy.
Moving Denny's magazines was an exercise in careful packing… and dealing with dust
I had very little time to fondle the treasures I was putting away, but I couldn't help but notice the vast majority of them looked brand new. Most of the magazines were unread. When I posted photographs on Facebook the next day, including issues of The Magazine of Fantasy & Science Fiction from the 50s and 60s, the magazine's publisher Gordon Van Gelder sent me an appreciative message, saying:
Those magazines are in beautiful condition.
I told Gordon,
I pride myself on my F&SF collection, but it's garbage next to these. He had a complete set, and they were all brand new. I found one issue that had a crease and looked like it had been read, and I remember thinking, "I wonder what's special about this one??"

I had no time left to search the rest of the house, and thus I left countless treasures behind, but I have no regrets that I made sure these were all safely packed first.
In the three hours I had, I prioritized saving the most important digest magazines, including Astounding/Analog, Amazing, F&SF, Galaxy, Worlds of If, Fantastic, and Worlds of Tomorrow, plus a few digest-sized treasures Denny stored alongside them, including what looked like a nearly complete set of Galaxy Science Fiction Novels from the 1950s.

Denny's complete collection of Amazing digests (left), plus Fantastic, Worlds of Tomorrow, and Galaxy (right)
As I told Gordon, the focus on vintage digests came at a cost.
By 7:30 pm, I had packed up 20 boxes and moved them to the car. I had less than 20 minutes to look at the rest of the magazines — including Denny's huge library of non-digest mags — and explore the rest of the house.
I decided to explore first. Grabbing some empty boxes, I headed upstairs to quickly poke my head in the rooms I hadn't ventured into.
I'll be haunted for years by the treasures I left behind, all bound for the dumpster. In those rooms I found vintage editions of D&D, Arkham House books, rare computer games, a gorgeous collection of TSR minigames, old fantasy board games, hundreds of comics and graphic novels, and thousands of fabulous old paperbacks — including a terrific set of Harold Lamb paperbacks I grabbed for Black Gate's first managing editor, Howard Andrew Jones.

Some of the treasures left behind: a box of Dragon magazines, and bags of
Dozois anthologies in the attic (left), dozens of unexamined bookcases in the
basement (middle), and a handsome set of Manly Wade Wellman hardcovers (right)
In that last 20 minutes I crammed everything that would fit in my final three boxes — including most of the D&D volumes, board games, gaming books and big box computer games, and a few dozen paperback anthologies — and reluctantly returned downstairs.
I was now already late returning the key to Greg and Lisa. Picking up my last box, I returned the magazine room to stare at Denny's wall of non-digests. There were many hundreds of vintage magazines, including large-size Amazings, what looked like a complete set of Cemetery Dance, plus Galileo, Twilight Zone, Realms of Fantasy, Science Fiction Age, Aboriginal Science Fiction, and countless more.
I allowed myself five minutes to browse a single row of magazines. Into my last box I hastily threw copies of Nova Express, Fantasy Review, Odyssey, Christopher Cervasco's Paradox, Rigel, Space & Time, Shayol, Mythic Delirium, and a handful of odds and ends. Until at last my final box could carry no more, and it was time to leave.
Below are a few shots of some last minute items I managed to save.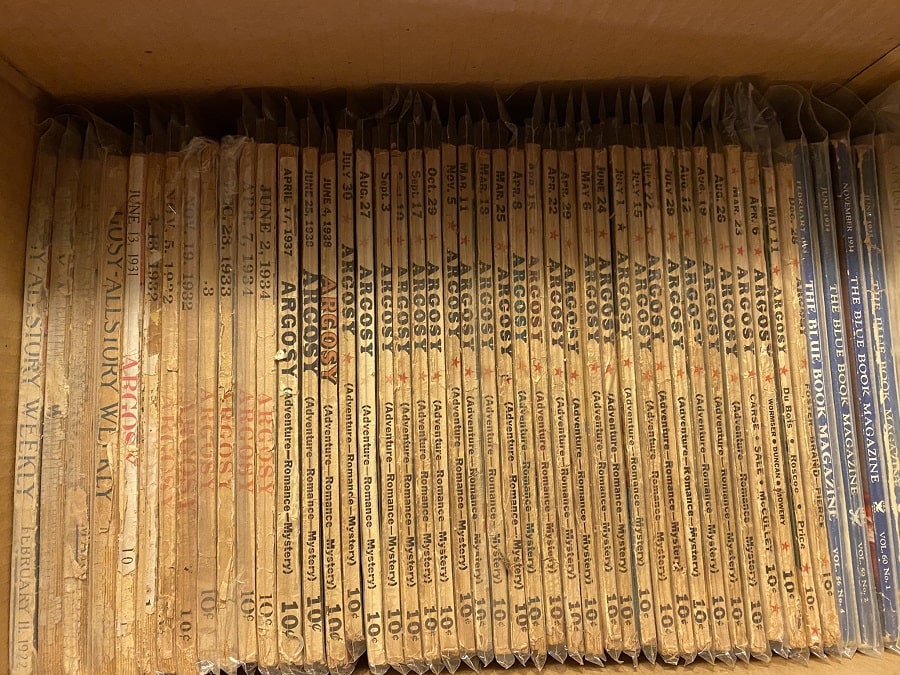 I found this box of Argosy pulps from the 1930s carefully packed and forgotten in the attic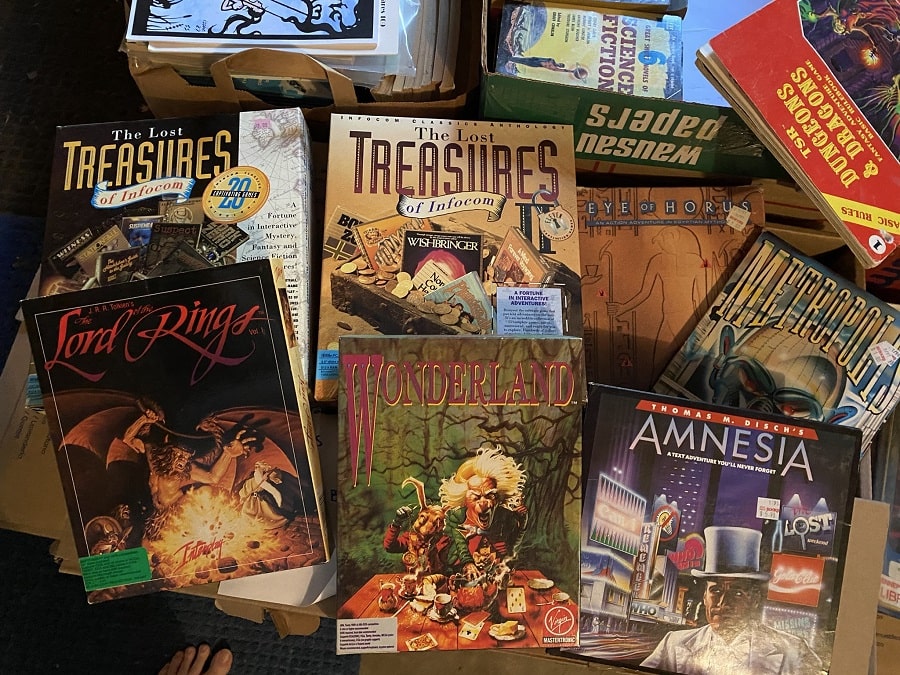 A marvelous set of big box computer games, including Thomas M. Disch's rare text adventure
Amnesia, The Lost Treasures of Infocom volumes I and II, and Interplay's RPG The Lord of the Rings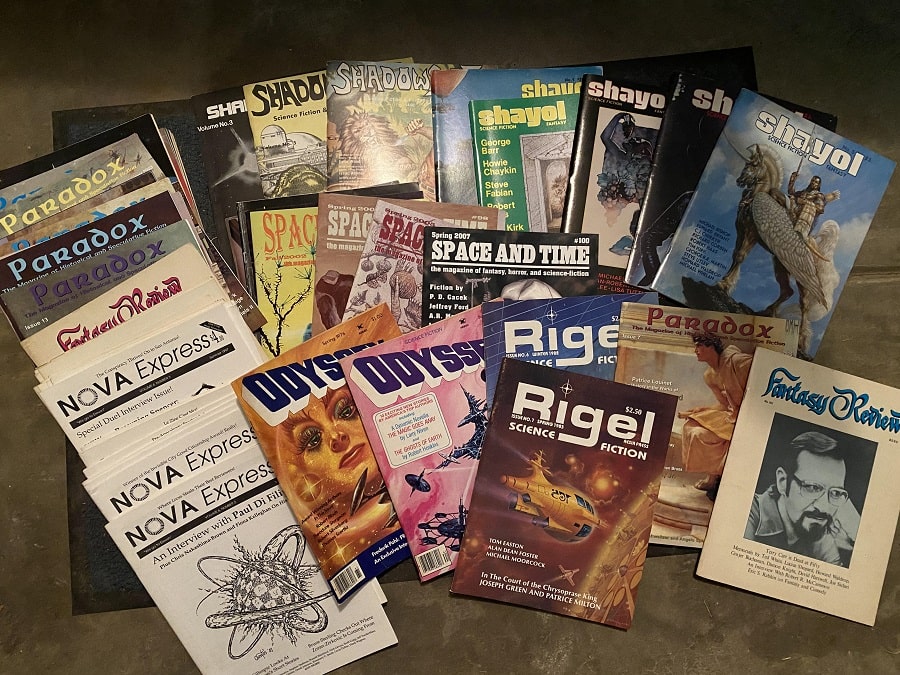 I brought home less than 5% of Denny's comprehensive collection
of large-sized SF magazines. This is what I managed to save.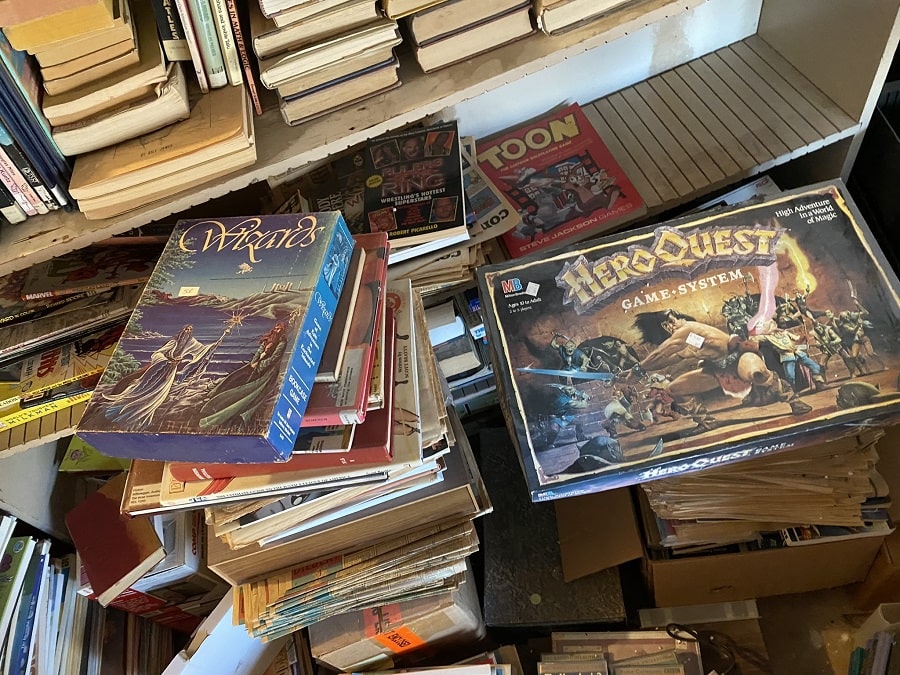 Two nice fantasy board games, Wizards (Avalon Hill) and Hero Quest (Milton Bradley)
I reluctantly returned the key to the supernaturally patient Greg and Lisa, and thanked them again for all their help — and their own enormous efforts in preserving the bulk of Denny's legacy.
It was after 8:30 pm by the time I left the city, on the way to Chicago. Six hours of night driving in perfect weather is an ideal time to use up Audible credits, and that's exactly what I did, listening to The Science Fiction Hall of Fame, Volume 2A. I found it an uneven mix of tales, at least until I hit Lester Del Rey's classic novella "Nerves," a chilling tale of a nuclear accident written in 1942 (!!), which had me absolutely riveted.
I'd broken my promise to Greg and Lisa by returning the key so late, and sorely taxed their patience, but during the long night drive my mind kept returning to the treasures left behind, and I kicked myself for not taking an extra five minutes to save a few last-minute items from the dumpster. The box of Dragon magazines in the attic. The paper bags with the Dozois anthologies. The unsearched shelves of large-sized magazines. The Manly Wade Wellman hardcovers. A box of Horror magazines, including a Karl Edward Wagner memorial issue.

More items left behind. One of countless bookcases in the basement, with a handful of Arkham House
and Dark Harvest volumes (left). A bookcase full of digests; I took only those issues of Palace Corbie
(middle). And the back side of the same case, with more magazines and anthologies; I saved
the Postscripts, Fantasy Tales, and Eidolon magazines (right). Click for bigger images.
And of course, all the rooms and bookshelves that had remained unsearched in my last walkthrough. Who knew what unknown treasures lay at the bottom of an old filing cabinet?
My single biggest regret was Interzone, the splendid British science fiction magazine edited by David Pringle and Andy Cox. During my hours in the magazine room Linda, one of Denny's friends, had come by the house, and we'd struck up a conversation. She mentioned that she'd found a fine set of Interzone magazines in the basement, going all the way back to the first issue — a treasure I'd dearly love to have!
Unlike the American digests, I have relatively few issues of Interzone, as copies are expensive to acquire in the US. I'd made a mental note to search the basement before I left… but in that final rush of the last 20 minutes, I'd been unable to return to the basement. They were almost certainly headed for the dumpster, a tragic loss.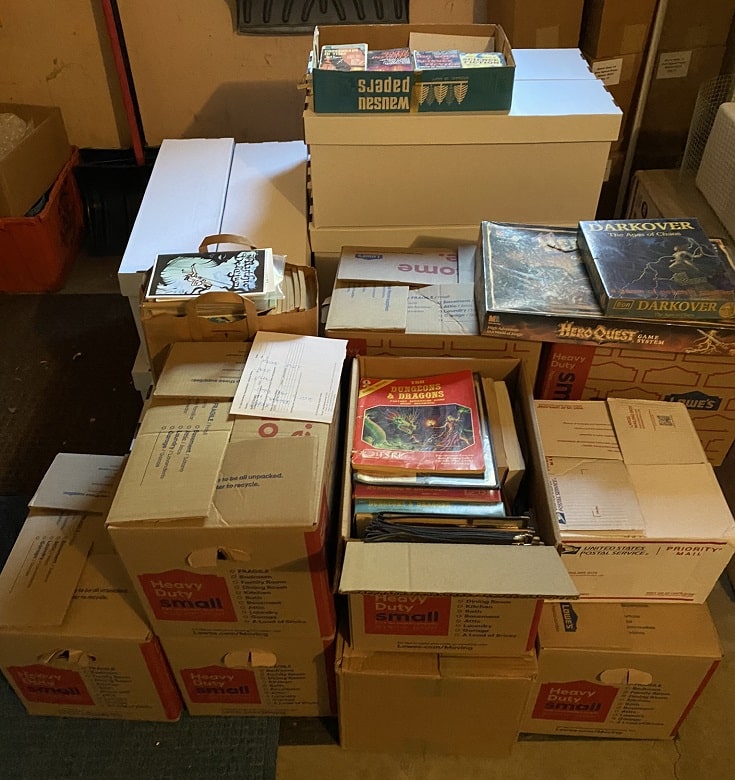 Doesn't look like much in my garage: a total of 24 boxes of magazines, games and books
I made it home to St. Charles shortly after 3 a.m. on Thursday morning. Somehow Alice had managed to wait up for me, and we unpacked and returned the minivan.
The work of a long day didn't seem to amount to much: a pile of 24 boxes of magazines, games, and paperback books in my garage. The whole undertaking had taken less than 24 hours. Total cost (not including road food): just over $200, mostly for gas.
I wrote up a BG feature on DreamHaven on Friday, and that same day I made a brief Facebook post about my trip to Minneapolis.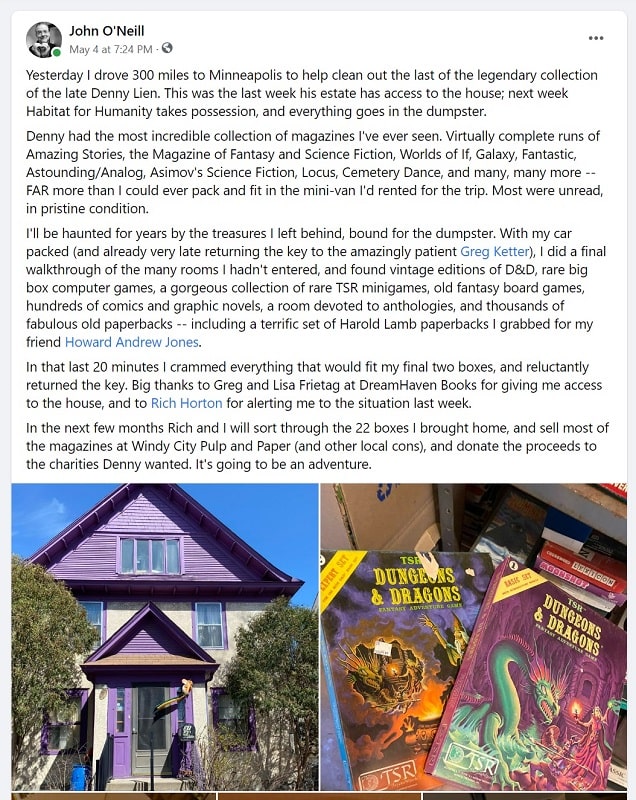 My May 4 Facebook post on my trip to Minneapolis
That May 4th Facebook post was an education in the power of social media.
Although it was seen by only a small number of people on Facebook — just over 130 left a comment or a Like — it was widely shared in groups around the internet, and I began to get calls and emails almost immediately. Was the house still open? Were folks still looking for volunteers to help clean it out?
They certainly were. Mike Ward posted his contact information directly in the comments on Facebook. The call went out, and it was answered.
The first people I know to respond were Doug Ellis and his wife Deb, who saw my post and drove up to Minneapolis Friday night. They filled their car with two dozen boxes in a few hours, and in their short time there they managed to grab some of the items I most regretted leaving — including the Manly Wade Wellman hardcovers, the Dragon magazines, and much more.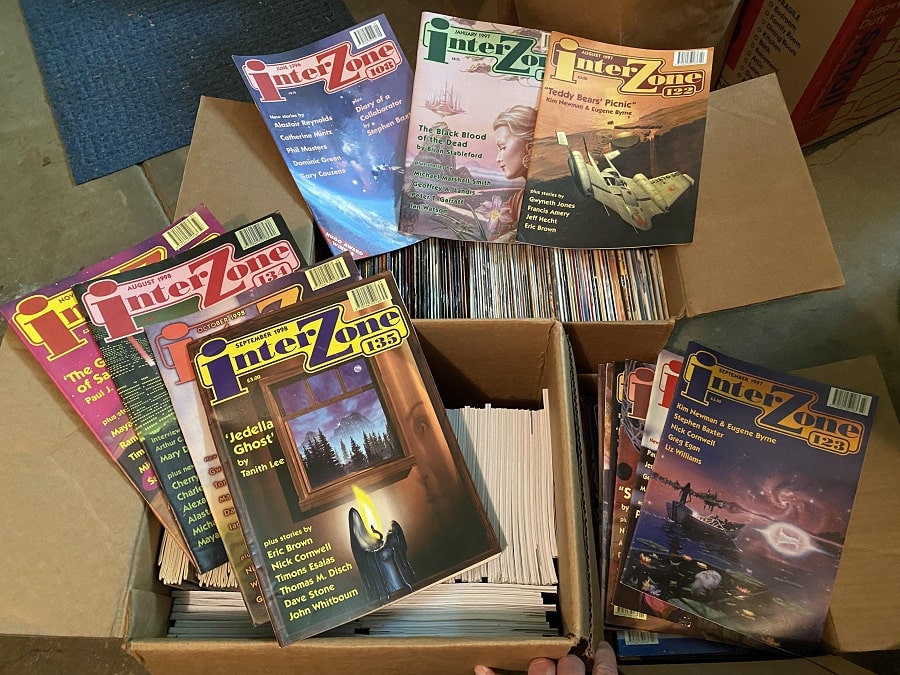 Not something you see every day — a virtually complete set of Interzone
magazines, courtesy of Doug Ellis and Deb Fulton. I am in their debt for rescuing these.
Best of all, they found the Interzone magazines. When we had lunch in Schaumburg a week later, they gifted me with the entire set — a gorgeous collection spanning three large, heavy boxes.
Doug and Deb reported that, while they were in the house, three other folks arrived to help clean it out. One of them was a bookseller who boxed up the last of the digest magazines, including the last of the Analog and Asimov's Science Fiction issues I had no room for. I was very relieved to hear it.
In the next few months Rich Horton and I will sort through the boxes I brought home, and sell many of the magazines at Doug Ellis' Windy City Pulp and Paper show here in Chicago. Our plan is to donate the proceeds to the charities Denny specified, just as he wished. I'm looking forward to the chance to spend a little more quality time with these magazines.
Two boxes of digest-sized Amazing Stories from the 1950s, and a few F&SFs, all from Denny's collection
Since I returned from Minneapolis I've read many eulogies and tributes to Denny. But perhaps the finest was this one by follow collector Curt Phillips, sent in a private email to me and Rich Horton:
I would have thought Habitat for Humanity would operate thrift stores for just this sort of situation. It is quite painful to think of parts of Denny's collection literally going into a dumpster. I know that Denny tried his best to disburse parts of it before he died (and he clearly expected to have more weeks and months left to do that…), and I know that local friends helped take some of it away. Greg Ketter is a true hero of this story for saving as much as he possibly could, and now John has clearly gone to considerable effort and expense to do his best too.

All this illustrates just how complex and comprehensive Denny's collection was, and to a fellow collector like me, the overwhelming feeling I'm left with is how immensely wrong and unfair Denny's untimely death has been. True, the breakup of his collection is insignificant compared to the loss of the man himself. The books and magazines and everything else; in a sense, that's all just stuff. Stuff isn't *important*; people are. We all get that….

And now his collection will serve one final role. It will contribute to other collections; maybe even seed new ones. As those books and other items make their way around Minneapolis and across the world, they will carry with them a little something of Denny's passion for the written word, and *that* is not insignificant.

Greg has kindly secured something from Denny's collection for me, and when it arrives I'll be very proud to add it to my own collection. For the rest of my days, it will reside in my home library and will forever remind me of the fellow collector from whom it came. He built a fine world-class collection. And the impact of his efforts will live on.

I'd have gone to Minneapolis weeks ago myself to visit Denny, but it would have been about a 16 to 18 hour drive for me, and that's just more than I'm capable of at my age. But at least I could call him on the phone and we could talk. His calmness and sense of peace as he knew he was facing his end was something I've never encountered before. Denny was an impressive person in every way I can think of. I'll never forget him.
What is Denny's true legacy?
I know many will say it is the hundreds of rare pulps and hardcovers, safely preserved now in University collections around the country. Or many of the other countless rare books Denny collected and preserved.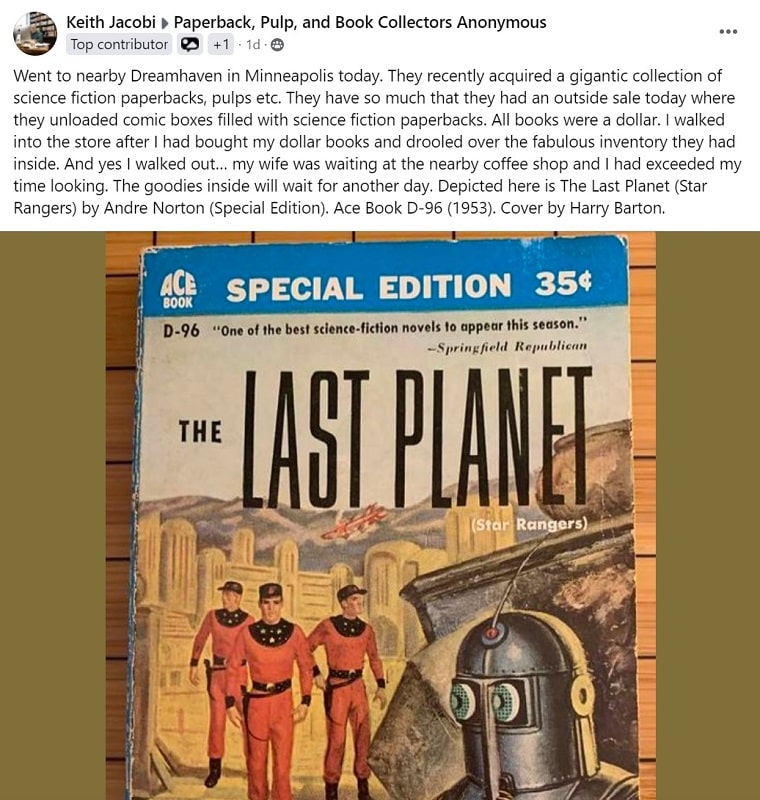 Keith Jacobi's May 20th post in a Facebook collector's group (reprinted with permission)
But the more I think about it, the more I believe that Curt has it right. The treasures Denny worked so hard to gather and preserve are now — thanks to Michael Ward, Greg Ketter, Doug Ellis, and a handful of others — finding their way into brand new hands, and each of them, as Curt said so beautifully, "will carry with them a little something of Denny's passion for the written word."
On Saturday, May 20th, I stumbled on the Facebook post above by Keith Jacobi, writing about "a gigantic collection of science fiction paperbacks, pulps" and more just acquired by DreamHaven in Minneapolis. Readers were happily grabbing paperbacks priced at just a dollar.
When I contacted Keith yesterday to ask for his permission to include a snap of his post in this article, he was kind enough to send along a little more detail.
I checked your post about him and the trip up to Minnesota to salvage what you could. I did not know the man having just moved here to Minneapolis area from Alabama where I spent 27/28 years teaching at the University of Alabama. Incredibly sad about him but yet I think he would be so very happy that the books were going to others who enjoy them. In the hour or so I was at the sale there were faces of joy.

Individuals (fans of science fiction) finding armfuls of books that they were excited to find. Some new books some old. And I don't think it was haunted by frenzied dealers just fans of DreamHaven/ science fiction. I expect more longboxes were brought out during the rest of the afternoon and more people would have found pearls.

Inside some of the pristine paperbacks in pencil lightly written were a few words about what he felt about the book and a star rating. From this I knew he had read them and was knowledgeable about science fiction. People were pleased and so was I.
Yes, there's something to be said about preserving rare pulps and collectibles that excite archivists in places like the University of Iowa. But that's not what I dream about for my own collection, and I doubt it's what kept Denny's collector heart warm at night either.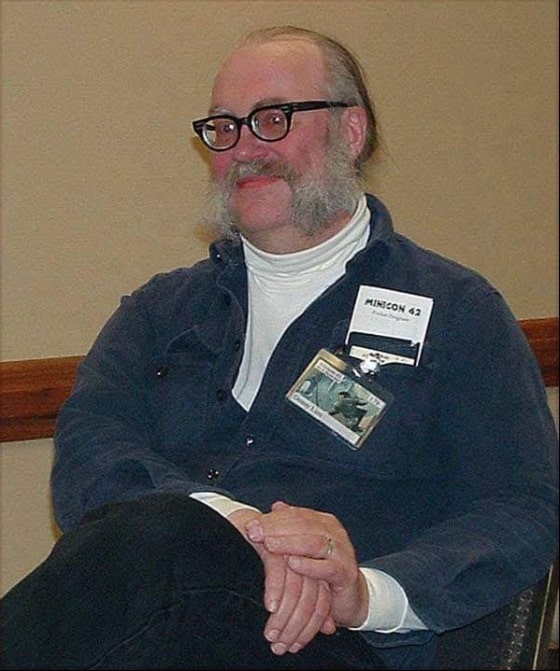 Denny Lien. Photo by Dave Romm (2007)
Why was Denny afflicted by the gentle madness of book collecting? Why did he do it?
I never knew Denny, so I can't truly speak for him. But I know a little something about collecting, and I know that I don't do it for future acclaim or glory. Lord no — I'm not so self-delusional as that.
I think we collect these sad, beautiful little treasures because we love them, and we fear that others don't. And we hope most deeply to pass that love along to others. We protect these books, and shield them from the ravages of time and neglect, so that one day they may once again find that rare pair of hands that will cherish them after we are gone. Few of us do it with the lifelong determination and success of Denny Lien, but I think this compulsion is at least familiar to most book readers and collectors.
What I have seen in the past month since Denny's death, in the amazing way his friends and fellow fans came together to preserve, protect, and disburse his amazing collection in a moment of crisis, is a manifestation of Denny's own lifetime obsession. Of his driving need to make certain these tiny treasures survive, find a new home, and new readers.
What brings me joy is to read Keith's note above, because it tells me Denny succeeded, and in a way that I think would make him very proud.
Rest in Peace, Denny. You did good.