A Pilgrimmage to DreamHaven Books
A Pilgrimmage to DreamHaven Books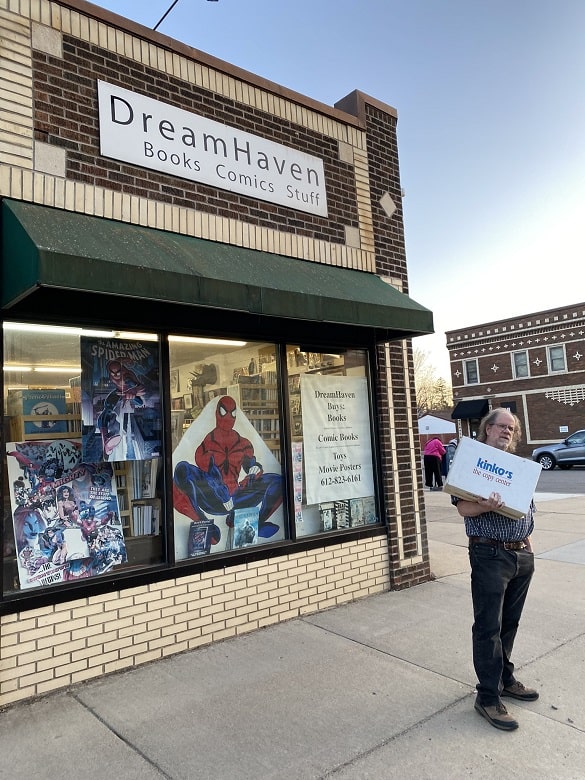 Greg Ketter in front of DreamHaven Books and Comics in
downtown Minneapolis. Photo taken Wednesday, May 3, 2023
Science fiction collector Denny Lien died in Minneapolis a few weeks ago, and word started going out that the folks handling his estate were looking for help. Rich Horton let me know that they were searching for a home for his legendary collection of vintage science fiction magazines. I didn't need to be told twice, and on Wednesday I rented a minivan, folded down the back seats, and drove 379 miles from Chicago to Minneapolis.
Greg Ketter had the key to Denny's place so I swung by Greg's store, DreamHaven Books and Comics, just a few blocks from George Floyd Square. Greg is a friend of mine, and I've known him since I started buying books from the DreamHaven booth at conventions in the mid-90s. But I'd never made the trip to DreamHaven Books before… and I wasn't prepared for the wonders that awaited inside.
DreamHaven is the most glorious and well-stocked specialty bookstore I've ever seen, and if you're a science fiction collector (or even a casual fan), it is a place you absolutely must visit at least once in your life. I don't know why I never did it sooner, but it's clear to me now that I've lived a lot of wasted years.
[Click the images for dreamy versions.]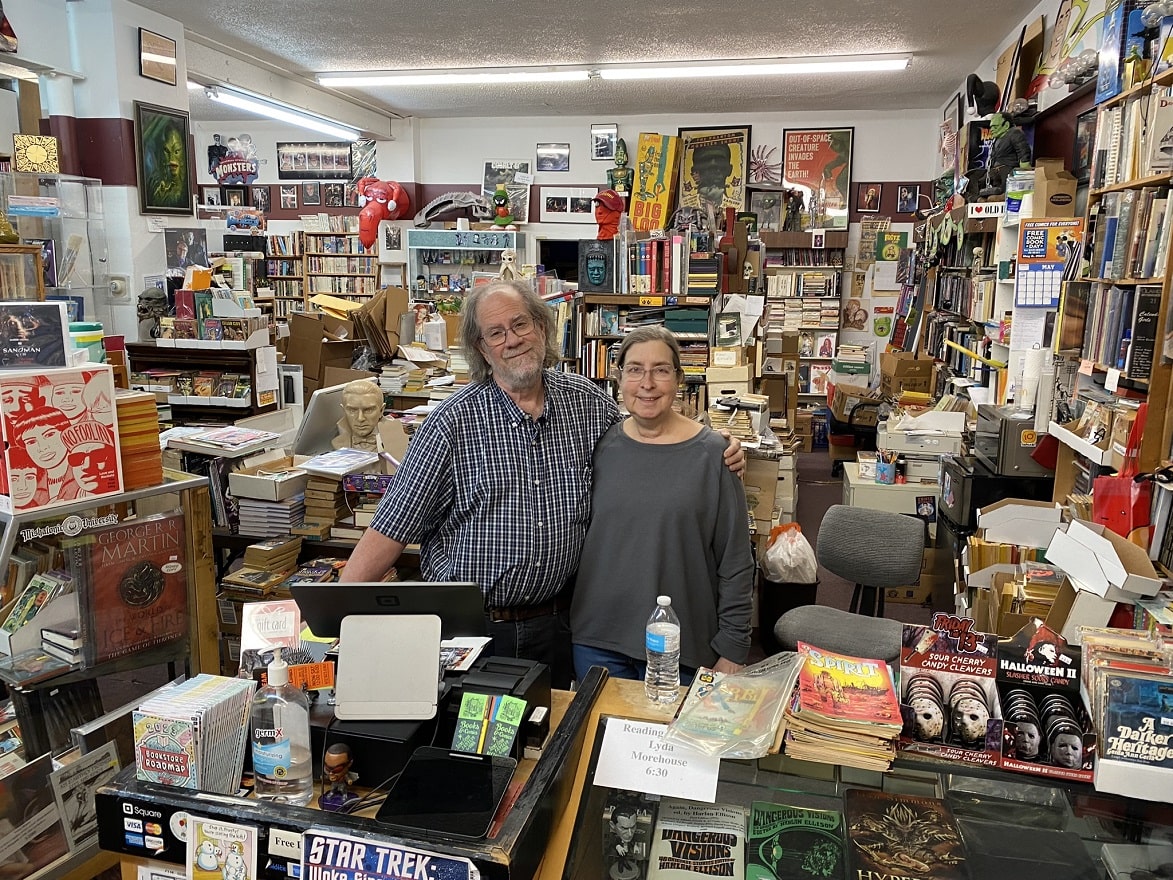 Owners Greg Ketter and Lisa Freitag
I've known about DreamHaven for decades, of course. And because I always drop by their booth at Windycon, World Fantasy, and the Windy City Pulp and Paper show, I somehow got the impression that, over the years, I've seen most of their stock.
Nothing could be further from the truth.
The first thing you notice when you step inside DreamHaven is that it's HUGE. It occupies an entire city block, and every inch of the store is crammed with shelves overflowing with books, comics, and treasures.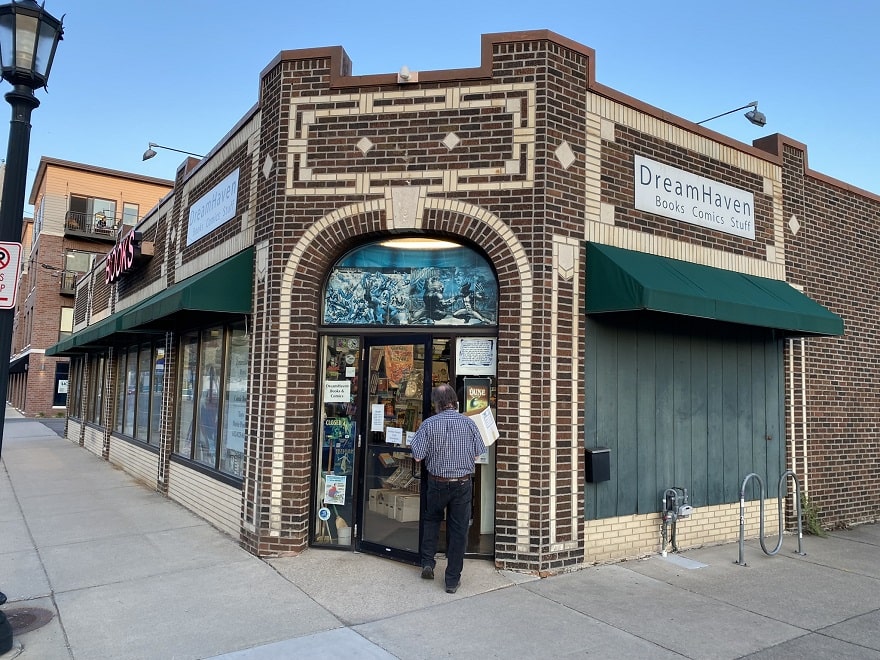 Behold the majesty of DreamHaven Books and Comics
Now, I've visited a lot of legendary bookstores in my day, in many different countries. But I have never seen anything that matches DreamHaven.
For as long as I've know Greg, he's been acquiring collections. Every year I hear about Greg's tireless efforts, driving around the country to bring yet another legendary collection of books back to the store. I've see some of the incredible results at his well-stocked booth at Windy City Pulp & Paper every year: rare paperbacks, British books and imports, vintage magazines, pulps, autographed editions, small press volumes, specialty press, graphic novels, discount hardcovers, comics, and so much more.
The booth, I now understand, contains only a small sample of the tens of thousands of items Greg has collected over the decades. The store is the ultimate repository, and the moment you step inside you're presented with a dizzying array of tight corridors leading off in all directions. Every corner — and as far as I could figure out, the building had about two dozen corners — is densely packed with shelves, book, and magazine displays.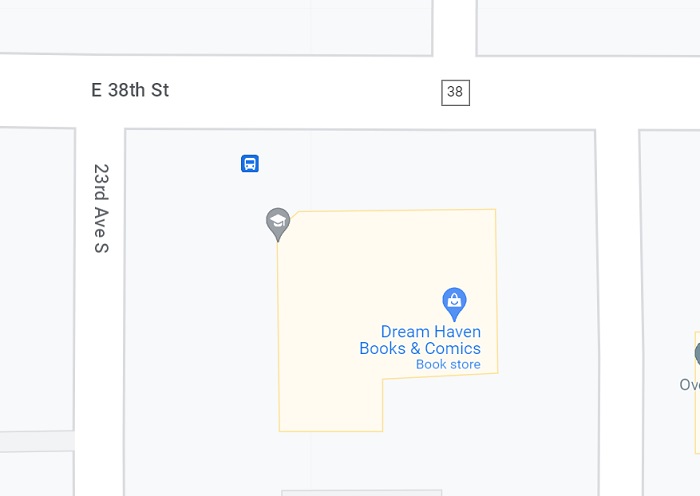 Your eyes don't deceive you — DreamHaven takes up the entire block
DreamHaven is the place to find that fantasy paperback you had to return to the library in 1978, and that comic book you lost when you were nine. I guarantee, it's in the store. I don't guarantee you'll find it, mind you, but I have faith it's there somewhere.
Up at the front of the store is the valuable stuff — the really rare paperbacks, first editions, autographed copies, and one-of-a-kind items. I snapped a couple photos of the displays for you to gawk at. Check them out below.

Some of the priceless treasures collected by Greg and his team of literary adventurers
I'm sorry to say that I didn't have nearly enough time to wander the store. I had only a scant few hours to pack hundreds of magazines at Denny's house before I had to return the key (and the incredible finds I made there deserve their own article — I'll say a few words about that in a few days), and then turn around for the six-hour return drive to Chicago.
As it was, I didn't get back to the store until well after it had closed. Greg and Lisa were extraordinarily patient with me — and Lisa even gave me a quick tour.
On top of the amazing items they had for sale, she also gave me a glimpse of the sprawling basement, filled to the brim with boxes waiting to be cataloged, estate sale finds, overstock and much more. Lords know what priceless treasures hide down there in the shadows.
One corner of the sprawling book metropolis that is DreamHaven (left), and
Lisa gives us a glimpse at the Cave of Wonders in the basement (right)
DreamHaven Books is located at 2301 E 38th St in Minneapolis, MN 55406. Their phone number is (612) 823-6161, and their website is here. The next time you're within two hundred miles of downtown Minneapolis, do yourself a favor and make a detour. You can thank me later.
And if you happen to be at any of the major conventions DreamHaven deals at, including Windycon, Capricon, Windy City Pulp and Paper, and even the World Fantasy Convention, drop by their booth to meet Greg and Lisa.
You'll be glad you did.