Goth Chick News Reviews: Hanging with Vampires: A Totally Factual Field Guide to the Supernatural by Insha Fitzpatrick
Goth Chick News Reviews: Hanging with Vampires: A Totally Factual Field Guide to the Supernatural by Insha Fitzpatrick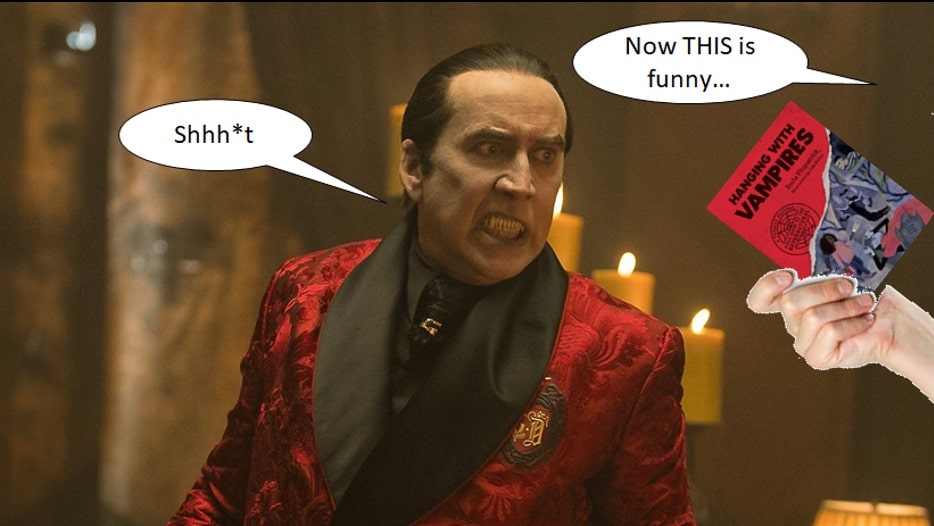 As you likely already know, I'm a superfan of Quirk Books. If you put this publisher's name in the Black Gate search bar, you're going to come up with a whole list of articles about previous works they're responsible for; all of which live up to their name. One of their newest tomes fits perfectly into my recent run on vampire news, so please indulge me while I cover a couple of different topics along this this line.
First, in a previous blood-sucking discussion, I was getting excited about Nicolas Cage's recent outing as Dracula, in the comedy/horror movie Renfield. Cage was pitching it as one of his dream roles, and the premise of a modern-day Renfield, tortured by an awful boss and in therapy over it, seemed like a perfect match up of talent with story. Yes, Cage is weird and over the top, but a vampire film with a sense of humor put me in the mind of What We Do in the Shadows, so I was looking forward to seeing it.
So, how was it?
Meh.
[Click the images for ghostly versions.]

Hanging With Vampires and Chilling With Ghosts (Quirk Books,
March 28, 2023 and August 15, 2023). Art by Lilla Bolecz
A whole lot of wasted potential IMHO. A theoretically hysterical premise that seemed rushed and poorly executed, with a handful of chuckles instead of ongoing hilarity.
It's worth an evening in front of a streaming service, but skip it in the theater.
Still, I'm far from being off the idea of mixing humor and horror. Which brings me to the main purpose of today's article. Quirk Books recently gifted me one of their new releases they knew full well would grab my imagination. Enter Hanging with Vampires: A Totally Factual Field Guide to the Supernatural by Insha Fitzpatrick, with illustrations by Lilla Bolecz.
I had never heard of Fitzpatrick prior to this, so I wanted to learn more. I mean, based on the title of her book, this is someone I totally need to hang with. And according to Fitzpatrick's bio on Amazon, she is:
An author of books and graphic novels, including Who Sparked the Montgomery Bus Boycott? Rosa Parks, Hanging with Vampires from Quirk Books, and the co-author of the series, Oh My Gods. She founded DIS/MEMBER, a genre website dedicated to all things horror, and when she's not writing, she's catching up on obscure horror films or consumed by reality TV.
The DisMember site is very cool and I am now officially a DisMember member. As for the book, it wasn't until I finished it that I determined via Amazon, that the suggested age range for HwV's is 8-12 years. Why? Because Fitzpatrick's writing style is conversational, charming and funny, while in no way talking down to her audience or venturing into anything too graphic. The book is set up much like a field guide to birds or plants which itself is entertaining. It starts by defining vampires, moving on to how to successfully fight them and then exploring vampires throughout world history.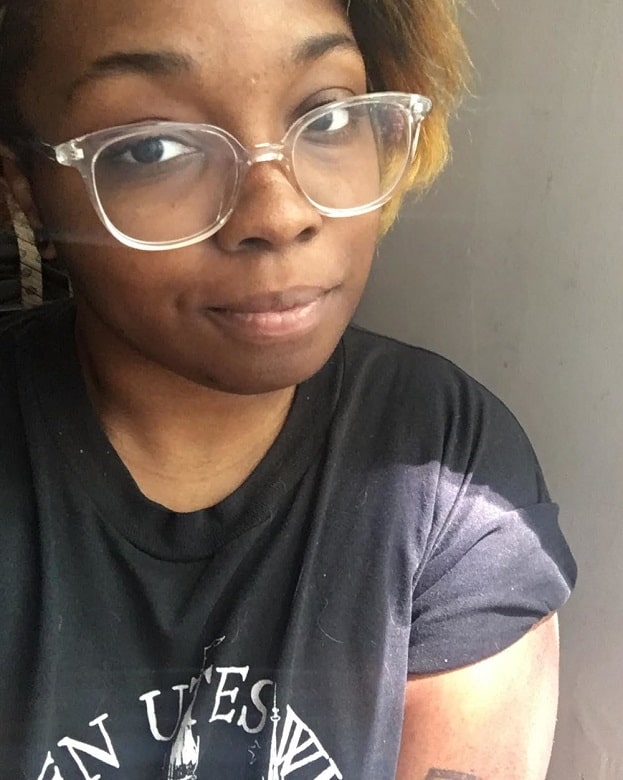 Insha Fitzpatrick
While enjoying passages like…
Once someone is turned into a vampire, they may discover newfound supernatural abilities. Vampires are often depicted as having super-strength, powers of hypnotism, and lightning-quick reflexes that could give an Olympian a run for their money. New vampires might also gain a heightened sense of hearing, sight, and smell.
…the reader is also treated to interesting facts in these little "According to Science" boxes that talk about things like vampire bats, sunburn and animals with retractable fangs. So in essence, a true field guide from which you take away more delectable facts than you could possibly lay down at one cocktail party.
The illustrations are perfect humorous compliments to the narrative. I must hand it to Bolecz whose art made me snicker nearly as much as Fitzpatrick's prose. I was thrilled to learn that this is book one of two Totally Factual Field Guides to the Supernatural, with the follow up being Chilling with Ghosts, available in August also through Quirk.
So, yes, HwV's is more of a kid's book the way Harry Potter is a kid's book, but that hasn't stopped me from having an embarrassingly large collection of "Hogwart's Alumni" memorabilia. I loved HwV and can't wait for the creator's next outing.
Wish I could say the same for Nick Cage.